Nestle India Reports First Loss in 15 Years After Maggi Recall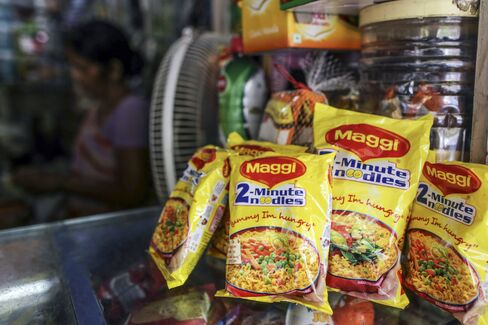 Nestle India Ltd. reported its first quarterly loss in at least 15 years after the nation's food safety regulator ordered the recall of its popular Maggi noodles following tests that showed excess lead.
The unit of the Swiss food maker had a loss of 644 million rupees ($10.1 million) in the three months through June, versus a 2.72 billion-rupee profit a year ago, it said in an exchange filing. The company hasn't seen a loss in any of the quarters dating back to 2000, according to data compiled by Bloomberg.
Nestle's India troubles began when a random check by local food safety officials detected levels of lead in some Maggi samples that were seven times the prescribed limits. Several Indian states then proceeded to ban the product in quick succession, culminating eventually in the Food Safety and Standards Authority of India ordering a nationwide recall on June 5. Since then, the product, which contributes about a 25 percent of the company's sales, has been off store shelves.
The company has challenged the FSSAI order in a Mumbai court, arguing the agency relied on dodgy test reports to order a food recall.
"This quarter has been extremely challenging for the company," Suresh Narayanan, who is set to take over as managing director starting Aug. 1, said in the statement. "Nestle India is making all efforts and will continue to engage with authorities to bring Maggi Noodles back on the shelves."
Maggi noodles have been sold in India for the past three decades. Sales in the quarter fell 20 percent to 19.3 billion rupees, the company said on Wednesday. The cost of removing the product from the market led to a one-time exceptional loss of 4.52 billion rupees -- nearly 1.5 times the average profit in the last four quarters.
Nestle dominates the noodle market in the world's second-most populous country, with a 63 percent share in 2014, six times as much as its nearest rival ITC Ltd., according to Euromonitor data.
Before it's here, it's on the Bloomberg Terminal.
LEARN MORE