Mullah Omar, Afghan Taliban's Reclusive Leader, Dies at About 54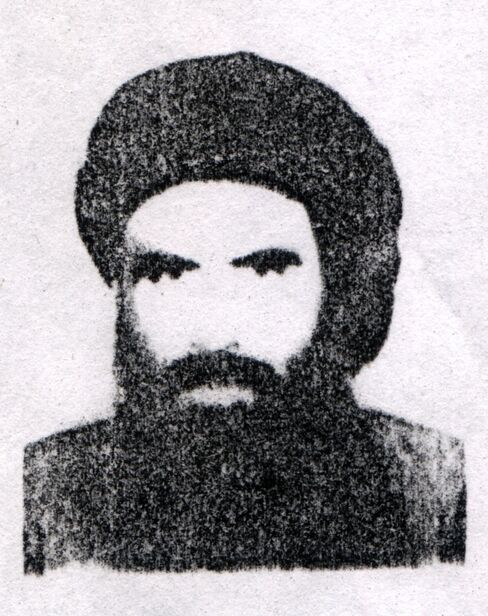 Mullah Muhammad Omar, the reclusive cleric who founded Afghanistan's Taliban guerrilla movement and sheltered al-Qaeda leaders as they plotted the Sept. 11, 2001, attacks on the U.S., has died. He was about 54.
He died in Pakistan in April 2013, the Afghan government confirmed Wednesday in a statement. No other details were provided.
The announcement comes amid reports that the Afghan government and Taliban representatives were preparing to meet for a second round of peace talks this week in Pakistan in an effort to end 14 years of conflict.
Omar was hardly ever seen in public and was rarely heard from. In an unusual step, the guerrilla movement in April published a biography of their leader and declared he was still in charge. It followed attempts by Islamic State to establish a presence in Afghanistan, and the defection of several Taliban factions straddling the border with Pakistan citing the lack of an inspirational leader.
As the U.S. has withdrawn most of its forces from Afghanistan, the Taliban have pushed to reassert control. The United Nations in February said the group controlled just four of 373 districts nationwide, but 40 percent of all towns and cities faced a significant threat from the insurgents. The group has seized more territory since.
Omar's Mission
The Taliban ruled Afghanistan from 1996 until being ousted from power by the U.S. for refusing to surrender al-Qaeda leader Osama bin Laden after the killing of about 3,000 people in the worst terrorist attack on American soil. While bin Laden sought to ignite conflict to drive U.S. influence out of the Arab and Muslim worlds, Omar focused on turning Afghanistan into an Islamic state under his conservative interpretation of Shariah law.
Mohammad Umar Mujahed was born around 1959 in a village of southern Afghanistan, according to Pakistani researcher Ahmed Rashid, who has written three books on the Taliban movement. He received a traditional religious education and never studied secular subjects, Rashid said.
After the Soviet Union invaded Afghanistan in 1979, Omar joined a guerrilla resistance faction and was injured several times, losing an eye to shrapnel in a firefight, one of his former aides, Abdul Salam Zaeef, said in a February 2010 interview in Kabul.
Following the Soviets' 1989 withdrawal and the collapse of the communist government they backed, Afghanistan fell into civil war among hundreds of local commanders who "abused the population" at will, "robbing merchants in the bazaars and fighting and brawling in the streets," Rashid wrote in his 2000 book, "Taliban."
Pakistani Support
Omar and other local mullahs in the south formed a movement among students at religious schools where the clerics taught. The movement was called Taliban, or "students," and it quickly drew support from Pakistan's military, according to a 2005 book by Husain Haqqani, who was Pakistan's ambassador to the U.S. from 2008 to 2011.
Through its Inter-Services Intelligence Directorate, or ISI, Pakistan gave the Taliban weapons and advisers in hopes of installing them as a Pakistan-friendly government. During their five years in power, the Taliban were recognized as Afghanistan's legitimate government only by Pakistan, the United Arab Emirates and Saudi Arabia.
Since the 1980s, Pakistan's army covertly has supported the Taliban and allied guerrilla groups as a way to keep Afghanistan from allying with Pakistan's arch-foe, India, and prevent it from pursuing historic claims to rule parts of what is now Pakistan, according to Rashid and Peter Tomsen, a former U.S. special envoy on Afghanistan.
Public Appearance
In 1996, Taliban leaders proclaimed Omar "commander of the faithful," a role he solidified by appearing before a crowd in the southern city of Kandahar wrapped in a cloak purportedly worn by the Prophet Muhammad, the seventh-century founder of Islam. The display cemented Omar's authority as a man "ordained by God to lead the Afghan people," Rashid wrote.
While Omar's command of the Taliban made him Afghanistan's head of state, he remained at his walled compound outside Kandahar, rarely visiting Kabul, the capital, Zaeef said. Omar seldom met foreigners and few photographs of him are known to exist.
In 1996, Omar offered refuge to bin Laden after the al-Qaeda leader was exiled from Sudan.
After the Sept. 11 attacks, Omar refused the U.S. demand to hand over bin Laden and, according to Zaeef, disbelieved the signs that the Americans would invade in response. In "Omar's mind there was less than a 10 percent chance that America would resort to anything beyond threats," Zaeef wrote in a 2010 memoir.
Going Underground
When U.S. air attacks and troops helped the Taliban's Afghan foes seize power, Omar fled into hiding, and Afghanistan's government has said he sheltered for years near the Pakistani city of Quetta, 190 kilometers (118 miles) southeast of Kandahar.
While Omar's location during the Taliban war against the U.S. was never confirmed, American military officers and the Central Intelligence Agency accumulated evidence of ISI collusion with the group, Rashid and Art Keller, a former Central Intelligence Agency counter-terrorism officer, said in interviews in 2009.
The U.S. government offered as much as $10 million for information leading to his capture, describing him on a State Department website as a "continuing threat to America and her allies."
Elevated Hopes
After U.S. commandos killed bin Laden in the Pakistani town of Abbottabad, 50 kilometers north of Islamabad in May 2011, then Secretary of State Hillary Clinton said U.S. officials hoped the al-Qaeda leader's death would encourage the Taliban to seek a peaceful resolution to the conflict.
More than four years later, the group is still fighting.
"The government of Afghanistan believes that the grounds for the Afghan peace talks are more paved now than before, and thus calls on all armed opposition groups to seize the opportunity and join the peace talks," the government said in its statement.
Before it's here, it's on the Bloomberg Terminal.
LEARN MORE