Turmoil Atop Korea's Lotte Shines Spotlight on Family Feud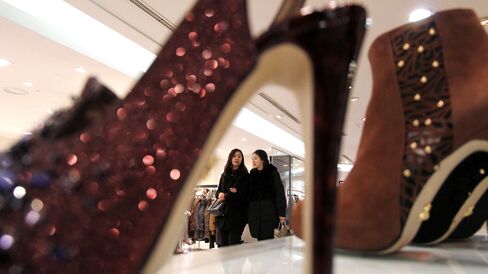 Turmoil has erupted atop South Korea's largest retail giant Lotte Group, shining a spotlight on one of the biggest family feuds the country has seen.
The week began with 92-year-old Lotte founder Shin Kyuk Ho and his eldest son flying to Japan to fire a group of senior managers at a key unit, a maneuver that backfired and left the patriarch sidelined the next day. By Wednesday, Shin Dong Bin had successfully fended off his elder brother's attempt to derail him from taking over control of the group.
At stake is leadership over a conglomerate with 80 units across Korea, operating everything from department stores, amusements parks to hotels with 112 trillion won ($97 billion) of assets. Though the country saw sibling rivalries tear up Hyundai Group more than a decade ago, power struggles at businesses of Lotte's size are rarely displayed in public in a corporate landscape dominated by family-run businesses, known locally as the chaebol.
"It was an unexpected move as everyone had assumed that the founder had already selected Shin Dong Bin as his heir," said Chae Yi Bai, an analyst at corporate watchdog Center for Good Corporate Governance. "This puts Lotte's succession plans back in debate."
'Very Sorry'
The drama at Lotte Group comes at a time when concerns over dynastic succession is fresh in people's memories. Less than two weeks ago, Samsung Group narrowly defeated billionaire activist investor Paul Elliott Singer in a hotly-contested proxy fight, paving the way for the founding Lee family to tighten its grip over the nation's largest conglomerate.
Back at Lotte, co-chairman Shin Dong Bin apologized to employees on Wednesday for the turmoil brought by the dispute and urged them to put faith in him.
"I am very sorry for causing uncertainties and turmoil to you all -- the corporate value that Lotte has held up for a long time should not be rattled simply by an individual's family issues," 60-year-old Shin said in a note to employees, a copy of which was distributed to the media.
The founder's act to support elder son Shin Dong Joo, 61, had been unexpected as the younger Shin had been heir-apparent after executive titles including the vice chairman role at the parent group were stripped from Dong Joo in January.
Lotte declined to make Shin Kyuk Ho or Shin Dong Joo available for comment.
Shares Spike
Shares of Lotte's listed South Korea affiliates rose for a third day straight on Thursday. Investors are speculating the contesting Shin brothers would snap up the shares to solidify their control, Kim Tae Hong, an analyst at Yuanta Securities Korea Co. said by phone.
Lotte Shopping Co. gained 5.7 percent by the close of trading in Seoul, and have jumped by 15 percent since Monday when the caper started to unfold. Lotte Confectionery Co. ended 0.5 percent higher after spiking as much as 16 percent on Wednesday. The benchmark Kospi index fell 0.9 percent.
In another statement sent to media Wednesday, Lotte Group said the older son and his father's July 27 act to fire executives at the closely held Japan unit Lotte Holdings Co. didn't follow legal procedures.
Tokyo-based Lotte Holdings' board of directors held a meeting a day after to nullify the dismissals, and decided to move the founder into an honorary chairman role, according to the statement. Such a role typically carries no specific duties or voting rights.
The older Shin brother's attempt to gain influence over the Japan unit is aimed ultimately at capturing control over the entire group, due to the conglomerate's shareholding structure, according to Chae.
Attack Blocked
"Whoever holds Lotte's holding companies in Japan pretty much holds the entire group because of how the group's corporate governance structure is designed," Chae said. "It's too early to say who won the crown, but Shin Dong Bin seems to have successfully blocked the attack this time around."
The founder holds a 28 percent stake in Lotte Holdings Co., Dong Joo holds 20 percent and Dong Bin has 19.1 percent, while a company called Kwang Yoon Sa holds 27.65 percent, according to data compiled by Bloomberg. Kwang Yoon Sa, a packaging company also based in Tokyo, is said to be owned by the founder, according to the Korea Economic Daily.
Lotte Holdings spokeswoman Ruka Mizuno declined to comment on the governance structure of Lotte Holdings and Kwang Yoon Sa. when reached by phone, saying the companies aren't listed.
Shin Kyuk Ho, born in Ulsan, South Korea in 1922, started Lotte in Japan in 1948 after completing his university studies there. The company started off selling chewing gum in postwar Japan and quickly grew into a major confectionery company.
When diplomatic relations normalized between Korea and Japan in 1965, Shin began investing in his home country and established Lotte Confectionery Co. in 1967, according to the Seoul-based Center for Good Corporate Governance.
Before it's here, it's on the Bloomberg Terminal.
LEARN MORE