Lone Star Bets on London With $1.1 Billion Quintain Bid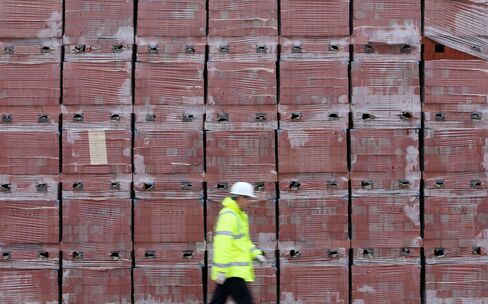 Lone Star Funds raised its bet on new housing in London with the purchase of Quintain Estates & Development Plc, a developer with plans to build about 5,000 homes in the capital over the next decade.
The Dallas-based private equity firm founded by billionaire John Grayken will pay 131 pence a share in cash for Quintain, according to a statement Wednesday. That's about 22 percent more than Tuesday's closing price and values the company at about 700 million pounds ($1.1 billion).
Quintain has completed about a quarter of its Wembley Park residential and commercial development near England's national soccer stadium. Lone Star said today that it plans accelerate the project "through the addition of significant financial resources."
The acquisition "understates the long-term value potential for Quintain," Liberum analysts including David Brockton said in a note. However, the price is consistent with Liberum's fair-value estimate because it accounts for the risks associated with unrealized development. Liberum rates Quintain a "buy" with a price target of 131 pence.
Quintain was the obvious target for a takeover because of its low price compared with assets, according to James Carswell, an analyst at Peel Hunt LLP. Other property companies trading at a discount, including Grainger Plc and Capital & Regional Plc, are "worth keeping an eye on," the broker said in a note Wednesday.
Direct Investment
"I don't think we'll see a huge amount of M&A in the sector," Carswell said in an interview. "Quintain was one of the more likely stocks to be bought."
Quintain shares closed at the offer price of 131 pence after rising to as much as 133.5 pence in London trading.
Lone Star made its first direct investment in London real estate last year when it bought a site in Elephant & Castle with planning approval for a 41-story tower with 335 apartments, offices and stores. It also agreed last year to buy a 1 billion-pound real estate portfolio, including stores, office buildings and student accommodation from London-based Moorfield Group Plc.
Demand for London homes under construction slumped by 27 percent in the second quarter as high prices and a sales-tax increase damped demand, broker Chestertons said, citing data compiled by Molior London Ltd. While rising values in luxury developments have contributed to the slump, Quintain is focused on mid-priced homes and second-tier commercial properties.
'Unique Opportunity'
Read this next:
"The proposed acquisition represents a unique opportunity for Lone Star to gain further exposure to residential and commercial assets in London," Angus Dodd, managing director of Lone Star Europe, said in the statement. "Wembley Park is one of the largest and most exciting urban renewal projects in Europe."
Quintain has an advantage over developers focused narrowly on luxury apartments because it has a potentially broader base of customers including buy-to-let owners and relies less on investment from abroad, Peel Hunt's Carswell said.
The acquisition will be financed by funds provided by Lone Star Real Estate Fund IV and debt from third parties, according to the statement.
Lone Star was advised by Morgan Stanley, while JPMorgan Cazenove and Lazard Ltd. acted for Quintain.
Before it's here, it's on the Bloomberg Terminal.
LEARN MORE