Indonesia's Protectionism on the Rise Under Widodo, Report Says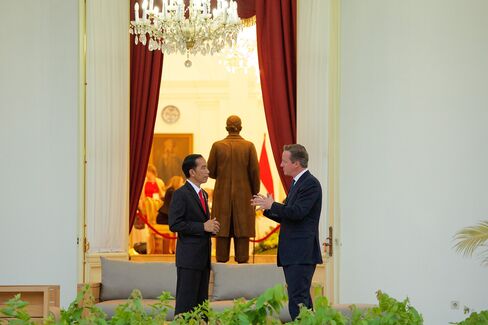 Indonesian President Joko Widodo raised import tariffs this month, and then asked visiting Prime Minister David Cameron to do the opposite by cutting U.K. duties for Indonesian goods.
Widodo's government is reacting to a slowdown in Southeast Asia's largest economy by ratcheting up protectionist measures, said Arianto Patunru and Sjamsu Rahardja in a report Thursday for the Lowy Institute for International Policy in Sydney. That is a departure from a historical trend of Indonesian leaders using bad times to make good policy reforms, they said.
The president, known as Jokowi, is trying to curb a persistent current-account deficit that has weakened the rupiah with rules aimed at restraining imports. This has included cutting quotas for cattle imports and higher duties for foreign-made cars, plastics and textiles.
"These measures are likely to drive up prices for Indonesian consumers at a time when their purchasing power is declining, and undermine the competitiveness and productivity of Indonesian firms," Patunru and Rahardja said. "This time, bad times are resulting in bad policy."
The protectionism is being spurred by the populist preferences of Jokowi, who took office last October, as well as the rupiah, anti-foreign sentiment, lobbying by local business interests and increased Chinese competition, the report said.
Jokowi and Cameron both sought to boost their countries exports at a meeting in Jakarta on Monday, with the U.K. leader calling Indonesia an "immense" opportunity and his host asking for lower duties for Indonesian wood, clothing and fish. That comes as the Jakarta government implements rules making it harder for foreigners to work in Indonesia and plans to require more locally produced components in smartphones.
"Rather than pursuing interventionist policies the Indonesian government needs to return to the basics: infrastructure, logistics, and consistency of rules and regulations," the report said.
Before it's here, it's on the Bloomberg Terminal.
LEARN MORE