HeidelbergCement's Italcementi Deal Disappoints Investors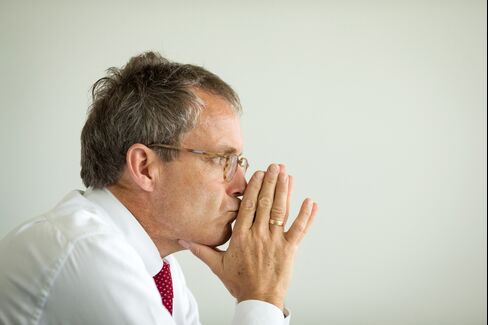 HeidelbergCement AG Chief Executive Officer Bernd Scheifele faced a backlash from investors for his plan to spend 3.7 billion euros ($4.1 billion) to buy Italcementi SpA, after signalling only last month that he was prepared to return more money to shareholders.
The price offered for each Italcementi share is 61 percent higher than the closing price before the deal was announced. On Wednesday, HeidelbergCement shares dropped as much as 5.5 percent in Frankfurt to their lowest in five months, while Italcementi surged as much as 55 percent in Italian trading.
"No sooner had investors been sold the story of focus on return on capital and significant cash returns at the capital markets day in June, than Heidelberg acquires an underperforming business," London-based Bernstein analyst Phil Roseberg said in a note to clients. "We expect many investors to be disappointed by the news."
Scheifele blindsiding investors contrasts with the solid reputation he's built up in recent years, pulling HeidelbergCement out of crisis mode by cutting debt over the past six years and streamlining operations.
As part of the deal to buy shareholder Italmobiliare SpA's 45 percent stake in the Italian cement maker, HeidelbergCement will issue as much as 10.5 million new shares, or 5.3 percent of the total share capital. It will also raise 4.4 billion euros in new debt.
Capital Allocation
"Given the strong message at the group's recent capital markets day that allocating capital to equity was the group's most important priority, and a lack of significant accretion, we expect investors will respond negatively to this deal," said Berenberg analyst Robert Muir.
The Italcementi deal represents HeidelbergCement's biggest since the 7.9 billion-pound acquisition of Britain's Hanson Plc in 2009. Scheifele has managed to give the company more breathing space from the debt built up in that ill-timed takeover, allowing him to pursue an expansion just weeks after Holcim and Lafarge completed their industry-transforming merger of the biggest cement companies in Switzerland and France.
Bernstein's Roseberg also said the Italcementi acquisition could hurt earnings.
"We struggle to see the strategic rationale for Heidelberg," he said. "Acquiring more mature markets that are in long-term contraction, and having to deal with markets with clear issues -- Italy, France, Egypt, Thailand -- are problems that could have been avoided."
Mediterranean Expansion
The acquisition of Italcementi will expand HeidelbergCement's operations in Mediterranean countries such as Italy and Egypt as well as in France and Belgium, which combined represent the Bergamo, Italy-based company's biggest market.
"With the market recovery gaining traction in southern Europe and the U.S., it is now the right time for us to accelerate our growth," Scheifele said Tuesday.
The deal gives HeidelbergCement the greatest boost in the Middle East and Africa, doubling its market share in that region to a similar level to Dangote Cement Plc, according to data compiled by Bloomberg Intelligence. It will still lag LafargeHolcim there.
HeidelbergCement reiterated it expects a dividend payout ratio of between 40 percent and 45 percent of profit by 2019. Some shareholders have also been hoping that further free cash flow might be returned in the form of special dividends or share buybacks.
Different Interests
"It's important to differentiate between shareholders investing for the long-term interest and those doing so for the short-term," HeidelbergCement spokesman Andreas Schaller said by phone, adding that the company may still do some share buybacks. 'There are clearly some who are disappointed that there are less likely to be buybacks in the short term.''
The deal will initially be financed through cash and a fully underwritten bridge financing of 4.4 billion euros by Deutsche Bank and Morgan Stanley. That will partially be repaid by one billion euros in asset sales and new debt sales.
As a result of the takeover, HeidelbergCement now expects revenue to top 20 billion euros by 2020, with earnings before interest, taxes, depreciation and amortization of more than 5 billion euros. That compares with earlier goals of 17 billion euros and 4 billion euros respectively.
Before it's here, it's on the Bloomberg Terminal.
LEARN MORE