Glaxo Earnings Beat Estimates on AIDS Drugs, Cost Reductions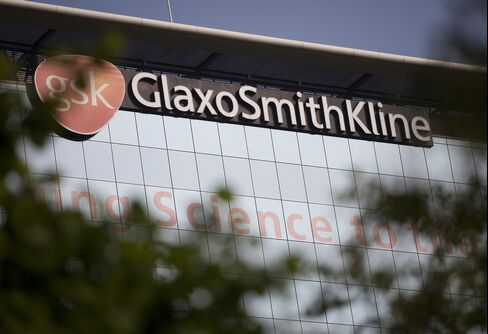 GlaxoSmithKline Plc, the U.K.'s biggest drugmaker, reported second-quarter earnings that declined less than analysts had estimated as AIDS medicines and efforts to reduce costs offset slumping revenue from Advair, its best-selling asthma drug.
Profit excluding certain items was 1.3 billion pounds ($2.1 billion), or 17.3 pence a share, down from 1.4 billion pounds, or 19.1 pence a share, a year ago, the London-based company said in a statement. Analysts expected 16.9 cents a share, based on the average of 13 estimates compiled by Bloomberg.
Glaxo shares gained as much as 4 percent as the company reiterated core EPS forecasts for this year and next.
Chief Executive Officer Andrew Witty is shifting Glaxo from dependence on Advair, which generated about 20 percent of revenue last year, to products that are more stable. The company completed a deal in March with Novartis AG to add vaccines and create a consumer health joint venture for items such as upset-stomach tablets. Glaxo is cutting costs as its drug pipeline has few assets to spur growth this year.
"There is strong and growing momentum" from new drugs, Witty said on a call with reporters. "New pharmaceutical products such as Tivicay and Triumeq now more than offset the sales decline in Advair."
HIV Drugs
Glaxo's ViiV Healthcare, the HIV and AIDS business, is a bright spot, with growth far outpacing that of the pharmaceuticals division. Sales of Tivicay were 282 million pounds in 2014, a figure analysts expect to more than double this year. The treatment brought in 145 million pounds in the second quarter, as HIV drug sales rose 59 percent.
Glaxo shares were up 3.5 percent as of 1:09 p.m. in London. Through yesterday, the stock had declined 0.4 percent this year, including reinvested dividends, compare with a 23 percent gain in the Bloomberg Europe 500 Pharmaceuticals Index of 19 companies.
Total sales were 5.89 billion pounds in the quarter, up from 5.56 billion pounds a year ago, as Glaxo recorded its first quarterly revenue from the Novartis consumer venture. The earnings figure, which Glaxo calls core operating profit, excludes costs such as amortization, legal charges and asset disposals. The company says it gives investors a clearer view of results.
Glaxo reiterated that core earnings per share will probably decline by a "high teens" percentage this year as it faces pricing pressure on Advair in the U.S. and Europe, and higher costs at businesses acquired from Novartis, before returning to growth next year.
The drugmaker cut its research and development costs 6 percent from last year, to 731 million pounds, or 12.4 percent of sales. The company said it's on track to achieve annual cost savings from all areas, including sales and administrative expenses, that will total 3 billion pounds by 2017.
"GSK as a company is in a difficult transition period," said Emmanuel Papadakis, an analyst at MainFirst Bank AG, before earnings were announced. "The merits of the long-term portfolios in vaccines and consumer health they've built are evident but the near-term challenges for pharma remain significant."
Read this next:
Glaxo has been struggling in the U.S. and in February promoted Jack Bailey to replace Deirdre Connelly as head of operations in the country.
Witty also said on Wednesday that he is optimistic the World Health Organization will accept the company's malaria vaccine. The treatment was recommended for approval last week by a committee of the European Medicines Agency. The vaccine, the first ever for the disease, took 28 years to develop.
Before it's here, it's on the Bloomberg Terminal.
LEARN MORE