Gilts in Crosshairs as Shrinking Reserves Risk Investor Exodus
The U.K. government may be the latest victim of the slide in global foreign-exchange reserves.
Investors outside of Britain cut their holdings of U.K. government debt by the most in five months in June, according to the Bank of England. That's coinciding with a drop in international reserve assets. They slid to $11.5 trillion in July, from $12 trillion a year earlier, according to data compiled by Bloomberg, meaning there may be reduced demand from the world's central banks to hold pound-denominated assets.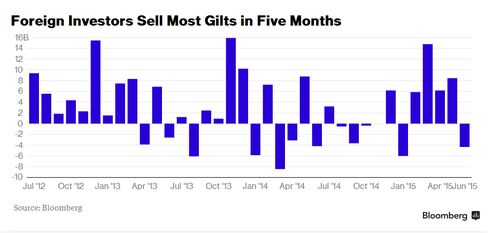 Also undercutting demand is the perception that the BOE is moving closer to raising interest rates for the first time in eight years. At the same time, the appeal of gilts as haven assets has decreased in the wake of Greece's agreement on a third bailout with its creditors last month.
"We wouldn't be surprised over the next few months to see more overseas outflow," said Joakim Tiberg, a rates strategist at UBS Group AB in London. "We think this trend, taken together with potential for outflows from the Greek situation abating, could lead to cheapening of shorter gilt maturities versus swaps."
He recommends selling five- to 10-year gilts and buying swaps on bets that the U.K. securities will cheapen compared with swap rates.
A swap, or the rate at which investors can exchange fixed rates into floating ones over a given time horizon, on Thursday was at 1.74 percent for five years, up from a 2015 low of 1.17 percent in late January. During the same period, five-year gilt yields have jumped to 1.51 percent from 0.88 percent.
Two-Year Gilts
Two-year gilts halted a four-day advance after the data Wednesday and extended their decline on Thursday, with the yield advancing one basis point to 0.63 percent at the 5 p.m. close in London.
The BOE said non-U.K. residents sold a net 4.3 billion pounds ($6.7 billion) of gilts in June after purchasing 8.5 billion pounds in May. Year to date, non-residents have bought almost 25 billion pounds of gilts, according to the BOE data. That's more than five times the amount purchased in the second half of last year.
Euro-region governments may also feel some pain. China's central bank depleted $299 billion of reserves in the year through June to keep the yuan from falling. It may mark the end of an era of accumulation that had led the bank to buy euros as part of reducing reliance on the dollar.
Yield Doubling
Investor speculation that the U.K. will be one of the first developed nations to boost borrowing costs has helped two-year yields to about double from their year-to-date low of 0.31 percent posted in January.
A report Tuesday supported that scenario. It showed U.K. gross domestic product expanded 0.7 percent in the three months through June, its 10th consecutive quarter of growth.
Rates will rise in May, according to forward contracts based on the sterling overnight index average, or Sonia, while less than three weeks ago, they were signaling no increase until August 2016.
"You probably also have them moving closer to a BOE rate hike," Tiberg said. "It might actually serve as a factor for overseas demand to target other markets, at least in the short term."
Before it's here, it's on the Bloomberg Terminal.
LEARN MORE