Drahi Boosts Profit With Focus on High-End French Phone Market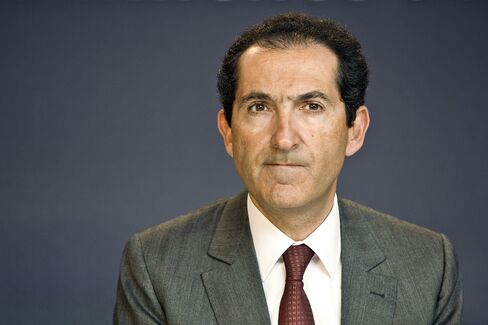 Telecommunications tycoon Patrick Drahi boosted earnings at his holding company and French carrier Numericable-SFR SAS through cost cuts and a focus on more lucrative customers buying high-speed services.
Adjusted earnings before interest, taxes, depreciation and amortization at Numericable-SFR rose 19 percent to 1.06 billion euros ($1.2 billion) in the second quarter, the company said Wednesday. Altice SA, the holding company, boosted Ebitda 13 percent.
Billionaire Drahi took over SFR about eight months ago and merged it with his Numericable to add wireless services. With competition pushing phone bills lower in France, Drahi this year sought to take over rival Bouygues Telecom but was rebuffed by owner Bouygues SA. Now Numericable-SFR is offering the latest high-speed network technology in a bid to charge more amid competition from Orange SA and discounter Iliad SA.
Shares of Numericable-SFR advanced 6.9 percent to 52.72 euros at 9:09 a.m. in Paris, giving the company a market value of 23.1 billion euros. Altice added 4.6 percent to 119.90 euros in Amsterdam for a value of 29.7 billion euros.
Numericable-SFR's net income was 79 million euros after a loss a year earlier. Revenue fell 2.4 percent to 2.8 billion euros as the company lost customers.
Expanding Empire
Through Altice, Drahi has been buying telecommunications assets from Portugal to the U.S. in a bet he can revamp their business and seek synergies to increase earnings. The Numericable-SFR parent reported a 2 percent decline in second-quarter sales to 3.9 billion euros, while Ebitda was 1.5 billion euros. Altice also owns operations in Israel and the Dominican Republic.
In France, Numericable-SFR had 12.5 million mobile subscribers at the end of the second quarter, down from 12.9 million in the end of the previous quarter. The number of fixed-line customers fell to 6.4 million from 6.5 million.
Larger rival Orange Tuesday reported sales and earnings exceeding analysts' estimates as broadband revenue rose and wireless sales dropped at a slower pace.
Before it's here, it's on the Bloomberg Terminal.
LEARN MORE