New Zealand Farmers See Red With China Buying Less Imported Milk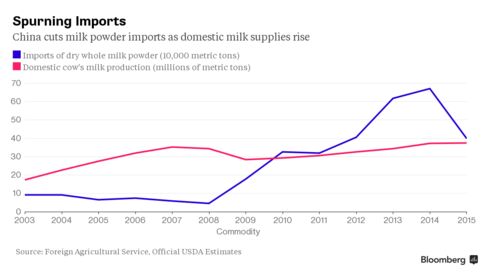 When China lost much of its appetite for imported milk powder this year, farmers 11,000 kilometers (7,000 miles) away in New Zealand went into a tailspin.
New Zealand supplies about two-thirds of the whole milk powder exported internationally, and China is its biggest customer. Shipments were down 65 percent in the first five months of this year, the U.S. Department of Agriculture said this month, and prices globally are the lowest since 2009.
That's contributed to a plunge in farm-gate milk prices that may make most of New Zealand's 12,000 dairy farms unprofitable this season, said Con Williams, a rural economist with ANZ Bank New Zealand Ltd. in Wellington. Last week, it helped prompt New Zealand's central bank to cut interest rates for a second time in six weeks, and has helped make the kiwi dollar the second worst-performing major currency this year.
"I don't see any bright spots on the horizon at this point," said Mat Hocken, who helps manage 1,000 milkers on two properties near Palmerston North, about 140 kilometers north of Wellington. "We'll have to do a lot of hard work for not a lot of money this year."
Fonterra Cooperative Group Ltd., the world's biggest dairy exporter, slashed its payment to New Zealand farmers to NZ$4.40 ($2.92) a kilogram of milk solids in the season ended May 31, from NZ$8.40 a year earlier. It's likely to cut a May forecast of NZ$5.25 for the new season after its board meets on Aug. 7.
Rival Open Country Dairy Ltd. last week forecast a payment of NZ$3.65 to NZ$3.95 for the current season, according to Hocken, who supplies the Auckland-based processor. Company officials weren't immediately available for comment.
Not Profitable
Most farmers "won't be profitable at such a low milk price," said ANZ's Williams, who expects payments to farmers to reach NZ$3.75 to NZ$4. "Break-even is considered around the low NZ$5 per kilogram."
Farmers may have to wait for any significant rebound. That's particularly problematic in a country where dairy cows outnumber people and milk products account for a quarter of the nation's exports.
Worldwide, prices have dipped because of increased milk supplies from North America, Western Europe, Australia and New Zealand. At the same time, two of the biggest importers -- China and Russia -- cut their purchases, according to Hayley Moynihan, general manager for rural banking with Rabobank International in Christchurch.
The international price of whole milk powder, the most valuable export for New Zealand dairy farmers, has tumbled the most after some European processors diverted milk they would have used to make cheese for Russia into making the dried food ingredient, Moynihan said. Whole milk powder prices fell to $1,848 a metric ton on July 15, the lowest since July 2009, according to the GlobalDairyTrade auction.
China Maturing
Meantime, an extra 3 million tons of milk produced in China last year bolstered domestic supplies just as a slowing economy and an easing in dairy consumption growth there softened demand for imported products.
"Chinese milk consumption on a per-capita basis, particularly in the main cities, has reached levels where we are starting to see signs of market maturity," Moynihan said. "We're starting to see a reduction in growth on a per-capita consumption basis."
Farmers in New Zealand have already heeded the price signals and begun trimming costs, culling cows and spending less on grain and other feed supplements, said Andrew Hoggard, who plans to milk 530 Holstein cows, 20 fewer than last year, at Feilding on New Zealand's North Island.
No Complaints
"If we get a sub-four-dollar payout, 90 percent of farmers will be borrowing to get through," said Hoggard, 40, a Fonterra supplier who also chairs the dairy industry group at Federated Farmers of New Zealand.
Industrial milk users aren't complaining.
Lower dairy costs helped push infant formula maker Mead Johnson Nutrition Co.'s second-quarter gross margin to the highest in more than five years, Chief Executive Officer Kasper Jakobsen said last week.
"We like dairy prices where they are, understandably," Jakobsen told analysts and investors on a call to discuss the Glenview, Illinois-based company's earnings. "Dairy prices are either at or near their natural lows, and you are probably going to begin to see some culling of herds around the world if dairy prices do not rebound."
Lower Prices
The dip in milk prices helped put Danone on track this year to widen operating margins for the first time since 2011 after first-half adjusted operating profit rose 17 percent. The maker of Activia yoghurt, which previously forecast milk prices would start rebounding this year, now expects them to start increasing next year, Chief Financial Officer Cecile Cabanis said on a call on Friday. The company is assuming 2016 prices will be higher than in 2015.
As it is now, farmer Hoggard says he's facing his worst year since he started farming in 1998, when tins of baked beans became a popular dinner choice.
"I was 23 then and I didn't need to worry about what I lived off," he said. "I didn't have a 3-year-old and 6-year-old wanting Legos."
Before it's here, it's on the Bloomberg Terminal.
LEARN MORE