China Rattles Credit Markets, But It's No Risk-Off Yet: Ballard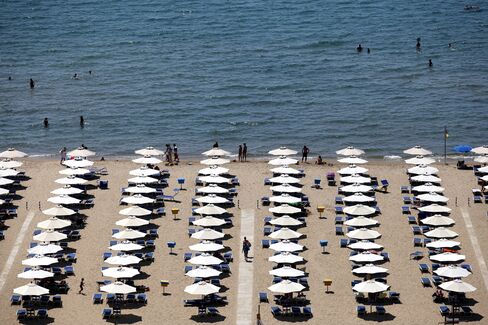 The weaker market tone that has recently characterised the corporate credit space might be interpreted as a return to 'risk off' sentiment, or could simply be viewed as 'usual' seasonal consolidation, writes Bloomberg strategist Simon Ballard.
Some strategists may try to align themselves with the more bearish interpretation. In the wake of the biggest overnight decline, earlier this week, in the Shanghai composite since 2007, compounded by weak Chinese industrial profit data, it would perhaps be easy to draw such a conclusion.
In the context of the robust primary market activity seen last week though, which highlighted the absence of any meaningful wholesale selling interest across the institutional corporate investor base, it could be argued that any credit spread weakness seen in the coming days is the result of nothing more sinister than pre-holiday book squaring and profit taking. Indeed, history reminds us that back in the summer of 2011, low seasonal liquidity and a lot of senior people being away from the office only helped to exacerbate spread widening moves.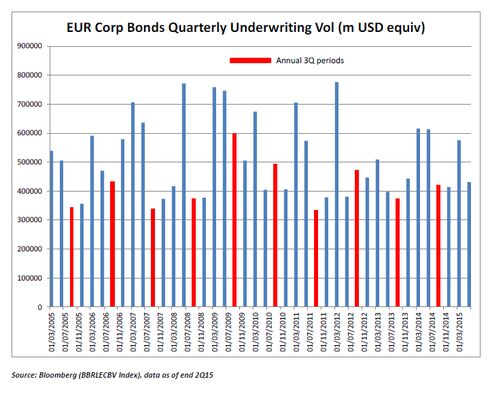 In the current low economic growth, low interest rate, low corporate-default rate environment corporate credit remains the asset class of choice for many yield-based investors. There are, however, many moving parts to keep one's eye on and portfolio positioning to adjust accordingly.
Key factors in current market analysis
Rhetoric from this week's FOMC meeting will be closely watched for any hint that the Fed may be preparing for a September interest rate hike; the global rates outlook may now be the key driver of risk asset performance in the coming months.
This said, a tightening bias (Fed or BoE) does not have to be a negative for risk assets. Monetary tightening to reflect improving macro conditions should be supportive for underlying credit quality, but the key to risk asset performance in such a scenario will be the (perceived) velocity of any rate hikes; a measured pace of tightening should be supportive for generic credit spreads. As such, current market sentiment may have gotten a little ahead of itself in fearing excessive tightening and in the absence of meaningful inflationary pressures there should be little reason to fear a sharp increase in (U.S.) interest rates.
Meanwhile, concerns remain about the Chinese economy and its place at the center of the global growth radar, with equity indexes and risk assets susceptible to headline risk. But assuming a 'hard landing' is avoided, a modest slowdown in Chinese growth rates may be seen as a healthy long-term development, which may have only a modest impact on global credit markets and risk appetite.
Finally, Greece remains an ongoing driver of gyrations in investor sentiment. Any breakdown in bailout talks over the coming weeks could carry the potential to dent broad market sentiment and trigger a widening in risk asset valuations. Conversely, a concrete resolution could create a fillip for risk appetite, in turn fuelling a flatter quality curve as high yield is outperforms investment grade assets.
NOTE: Simon Ballard is a strategist who writes for Bloomberg. The observations he makes are his own.
Before it's here, it's on the Bloomberg Terminal.
LEARN MORE