Barclays Investment Bank Posts 35% Profit Jump on Cost Reduction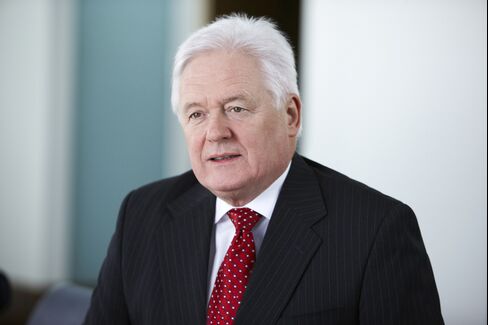 Barclays Plc posted a 35 percent jump in second-quarter profit at its investment bank as litigation and restructuring expenses fell.
Pretax profit at the unit rose to 765 million pounds ($1.2 billion) from 567 million pounds a year ago, the bank said in a statement Wednesday. The investment's bank's operating expenses for the quarter fell 14 percent to 1.37 billion pounds.
At the investment bank, run by Tom King, Chairman John McFarlane plans to focus on the debt and equity capital markets businesses and the advisory arm, two people familiar with the plan said in July. He will also likely cut the less profitable and more capital-intensive fixed income, commodities and currencies trading businesses, they said. McFarlane called European and U.S. investment banking a "key franchise."
"I am personally pleased with recent progress in the investment bank," McFarlane said in the statement. "The challenge of the team is to convert this performance into sustainable economic returns through subsequent period."
The bank posted an 11 percent drop in investment-banking fees, which include mergers and acquisitions. Equities and credit revenue was almost flat in the quarter, while Barclays said income from the trimmed-down rates and currency businesses rose 10 percent, benefiting from volatile price movements related to Greece.
McFarlane, 68, fired Chief Executive Officer Antony Jenkins this month and took control himself, promising to increase revenue and double the share price over the next three or four years. Britain's second-biggest bank and its European peers are in the process of cutting back their debt trading operations as stricter capital rules weigh on the business.
The five biggest U.S. securities firms saw their combined revenue from bond trading drop 12 percent to $10.9 billion in the second quarter from a year earlier, data compiled by Bloomberg Intelligence show. That puts the global industry on track for a seventh decline in the past eight quarters.
Read this next:
Before it's here, it's on the Bloomberg Terminal.
LEARN MORE