As Macau Heads Toward Vegas-Style Makeover, MGM Seeks to Adapt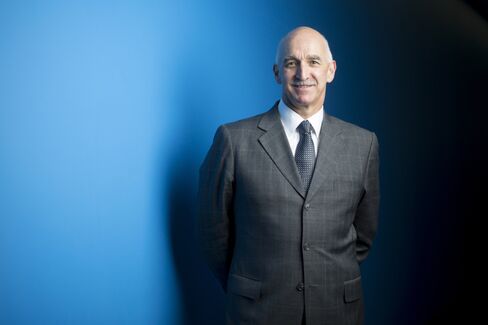 Running a casino in Macau used to be a simpler affair: build a world-class hotel, have junket agents bring in high rollers from China and design attractions to draw the crowds in.
Now, as Macau's casino bosses face the worst downturn they've ever seen, MGM China Holdings Ltd. Chief Executive Officer Grant Bowie is focusing on adapting his company to the Portuguese enclave's transformation into a family-oriented venue -- more of a Las Vegas, less of an Atlantic City. He'll also need to cater to Chinese tastes.
"We are living in Macau in one of the biggest economic consumer experiments in the world," the 57-year-old New Zealand native said in a recent interview. "The length of stay, building capacity, building a reason to be here, building a destination of appeal -- those are the challenges."
Macau casinos for years have ridden a boom driven by Chinese hard-core gamblers, whose bets turned the city into the world's largest gambling hub. In the past year, gaming revenue plunged back to 2010 level as China's anti-graft crackdown kept those big spenders at bay.
Operators are spending $27 billion to build new resorts, ramping up hotel rooms, retail shops and designing attractions that they hope would get Chinese tourists to stay longer and spend more than the $7.7 billion last year.
At MGM's only casino in Macau, revenue dropped 33 percent in the first quarter, and a third of its junket operators, the middle-men who arrange gambling trips and lend money for the high rollers, closed their VIP rooms, Bowie said.
Vegas Transition
Las Vegas had experienced its own transformation. Over the past century, it changed from a deserted railroad town to a four-mile Strip that is home to seven of the U.S.' top 10 grossing nightclubs and has restaurants that rival those in New York and Los Angeles, according to Macquarie Capital (USA) Inc.
In Las Vegas, MGM China's parent MGM Resorts International, which controls more land on the Strip than any other operator, is a leader in non-gaming, according to Macquarie. It held in May a boxing match between Floyd Mayweather and Manny Pacquiao with fans spilling out to its 10 casinos there, driving bets to a record.
It gets two-thirds of its revenue from non-gaming amenities, while MGM China, like most of Macau's casinos, gets less than 10 percent. Bowie plans to accelerate growth there, without giving a target.
Pricey Hotels
With fewer customers, gambling houses "have to be creative and think out of the box to come up with ways of luring in new customers to Macau," said Richard Huang, an analyst at Nomura Holdings Inc.
Hotel prices also need to come down to make the market more attractive, Bowie said. Macau has the priciest Asia's hotel rooms costing $203 on average, compared with $149 in Las Vegas, according to HRS, a hotel reservation company.
MGM China, which according to Barclays Plc has the smallest share of VIP gambling in the second quarter at about 9.9 percent, is building a HK$23 billion ($3 billion) new project in Macau's developing Cotai gambling district. The company also has among the smallest share of the mass market.
The resort, with an exterior designed to look like a stack of Chinese jewel boxes and due to open in fourth quarter next year, will almost triple MGM China's number of hotel rooms.
One big challenge Bowie faces is how to adapt to the fast-changing tastes of the Chinese consumers, who demand more unique experiences as they travel more around the world. MGM China will enlist Chinese artists and marketers to help, said the former president of Steve Wynn's Macau unit.
"Everything in China is on steroids, everything goes faster," Bowie said at a restaurant in his Macau resort, overlooking an 8-meter tall cylindrical aquarium, a Chinese symbol for good luck.
Chinese Tastes
The one thing he's sure of is that directly importing Western shows wouldn't work. Cirque du Soleil -- a Canadian theatrical circus -- pulled its Sands China-based show in Macau in 2012 due to disappointing ticket sales.
"Some of this is trial and error -- you can't afford to put all your eggs in one basket," said the former tourism professor at the University of Queensland in Australia.
MGM China's parent has one weapon that might put it ahead of other foreign casino operator: a working partnership with Beijing. It has teamed up with the Chinese Foreign Ministry's Diaoyutai State Guesthouse to build luxury hotels together in some of the nation's richest cities and is hosting an international lion dance competition in Beijing in collaboration with the Macau casino.
In a country where advertising of gambling is banned, the partnership helps improve exposure for its brand, Bowie said.
"There's no question that working in China is about building relationships," Bowie said. "We should always be sensitive and you should never feel comfortable."
Before it's here, it's on the Bloomberg Terminal.
LEARN MORE