How Your Work Crush Can Improve Your Marriage
For everyone who is looking for a reason to keep creeping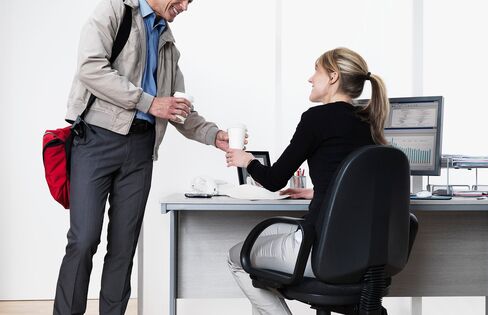 If you came upon this story by Googling "how my crush could actually be good for my relationship," congratulations, you just found what you're looking for.
A study published this month in the peer-reviewed Journal of Sex & Marital Therapy suggests that pining for someone else when you're taken probably won't change your relationship and could actually make it stronger. The findings, published by sexual health researchers at Columbia University, Indiana University, and the University of Kentucky-Lexington, could be interpreted as a sign that we should not be so hard on ourselves for having extracurricular needs.
The researchers based their analysis on an online survey of around 200 women who had been in relationships for three years or longer. The women, who were typically married to men, highly educated, and from 19 to 56 years old, were asked open-ended questions about their significant others and their sexual attractions.
Perhaps the least surprising finding was that the vast majority of women—70 percent—said they had experienced a crush on someone else while dating their current partner. In most cases, the women came upon their object of desire at work. This should not come as a shock either. Work is like high school: When you're stuck in a building for eight hours doing the same thing as everyone around you, it requires some effort to not get distracted by at least one of those people.
It turns out that most women were not that worried about the flirtations. The most common response from women who were asked about the impact of the crush on their relationship was that it had none. A smaller slice said that coveting someone else actually made them more attracted to their long term boo. (The respondents were not asked to measure their desire for partners during and after crushes, which could have indicated how their feelings had changed, but they did describe the feelings they had for the other person in detail, and they discussed whether they noticed those desires affecting the dynamic with the person they came home to.)
The women explained that being infatuated with someone stimulated more sexual thoughts, and they "described transferring the emotion from the crush to the partner and acting on this with their partner." The authors concluded that "women often funneled increased sexual desire from a crush into their primary relationship." This may seem a rationalization—but it also sounds as if it could be true, which should be good enough for anyone with an office obsession.
Before it's here, it's on the Bloomberg Terminal.
LEARN MORE