Why Goldman Says It Might Just Be Wrong on Russian Rates Outlook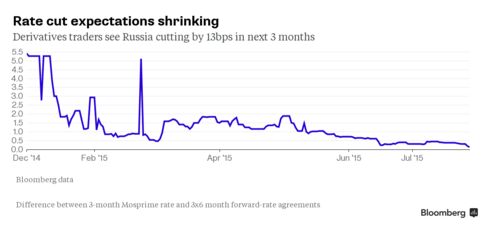 Even Goldman Sachs Group Inc. says it might just be wrong on its outlook for another percentage point cut in Russia's main interest rate.
As the ruble hit a four-month low on tumbling oil prices this week, threatening to stoke inflation because of the rising cost of imported goods, traders pared their bets on Russia's scope for more rate reductions to the least since December. Goldman has "relatively low" conviction in its forecast, it said in a client report.
"Clearly the road to the recovery might be slightly longer than we initially thought," Clemens Grafe, the bank's chief economist in Moscow, said by e-mail Tuesday. "For rates, we would not see this as the end to the cycle but rather a more drawn out cycle, potentially with a weaker terminal rate than the one we forecast."
The shifts in outlook show how Russia may struggle to further the 5.5 percentage points of rate decreases in six months aimed at relieving the economy from its first recession since 2009. The Bank of Russia signaled concern the ruble is depreciating too rapidly by halting daily purchases of foreign exchange on Wednesday after five days of declines.
The announcement spurred a pickup in bets for deeper interest-rate cuts, with traders signaling 28 basis points of reductions in the next three months, up from 13 basis points on Tuesday, according to forward-rate agreements.
Scaling Back
Izvestia newspaper reported yesterday that policy makers may leave interest rates unchanged on July 31, citing unidentified entrepreneurs who said they heard Governor Elvira Nabiullina speak at a meeting last week.
"It's clear that the central bank won't be cutting rates at the same speed as in the first half," Vladimir Pantyushin, a Moscow-based analyst at Sberbank CIB, said by e-mail on Tuesday. Still, the investment-banking unit of Russia's largest lender expects a 100 basis-point decrease. "Rates are still too high to help the economy exit recession."
While most of the 63 traders polled by Tradition brokerage also forecast a reduction, the number seeing no change has jumped to 22 from just four ahead of the last policy meeting. Among the 35 economists surveyed by Bloomberg, the median expectation is for a half-percentage point decline. Barclays Plc changed its forecast on Tuesday to no change from a 50 basis-point cut, citing the ruble's weakness, in an e-mailed note.
"We expect a 50 basis-point rate cut at the next meeting, but we think the risks are skewed towards a no-change," Oleg Kouzmin, a former central bank adviser who's now an economist at Renaissance Capital in Moscow, said by e-mail Tuesday. Adjusting to lower oil prices could be "fairly painful," he said.
Before it's here, it's on the Bloomberg Terminal.
LEARN MORE