VW's MAN Sees 2015 Profit Drop on Costs for Truck Restructuring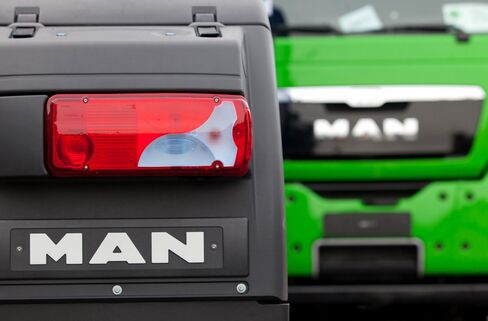 MAN SE expects costs to reorganize its European truck and bus unit will significantly lower operating profit this year, as a recession in Brazil hits sales.
The Volkswagen AG unit swung to an operating loss of 19 million euros ($21 million) in the second quarter from a profit of 154 million euros a year earlier, after the company booked expenses of 170 million euros associated with reorganizing its European commercial-vehicle business, the Munich-based manufacturer said Tuesday in a statement. Orders fell 7 percent to 3.71 billion euros, burdened by weak demand at its Latin America unit.
"It is of course no easy task to initiate fundamental and cost-intensive measures to safeguard future growth in economically difficult times," said Chief Executive Officer Georg Pachta-Reyhofen in the statement. "However, we are convinced that we have to act here and now to get MAN in shape for the future."
MAN is cutting about 1,800 jobs at its European commercial-vehicle operations, about 5 percent of its total workforce in the region, to reduce costs and revive profit as South America's economic woes weigh on the company. Daimler AG, the world's biggest truckmaker, last week said the market in Brazil had halved because of the recession.
MAN shares fell 0.3 percent to 91.80 euros as of 9:28 a.m. in Frankfurt.
Brazil Burden
The "tense" situation in Brazil continued to drag on MAN's results, the company said, while the European market is growing again after weaker sales last year following pre-ordering of trucks ahead of tougher emissions standards.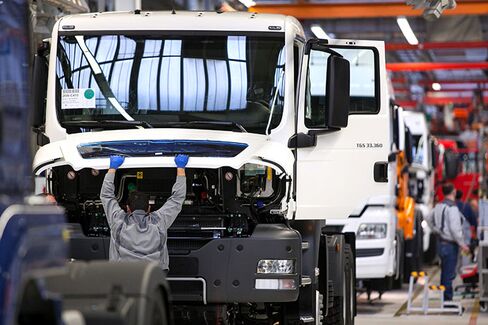 Europe's third-biggest truckmaker forecast that its operating profit margin this year will be more than halved as restructuring costs drag down earnings and sales fall "slightly." The company previously predicted "stable" earnings for 2015. Operating profit last year was 384 million euros with revenue of 15.3 billion euros.
Volkswagen has struggled to forge a heavy-truck business capable of challenging Daimler after acquiring control of MAN and Swedish counterpart Scania AB in recent years. The German automaker created a holding company this year to help drive joint development programs to cut costs.
Before it's here, it's on the Bloomberg Terminal.
LEARN MORE