UPS Plans Less Peak Hiring to Avoid Mistakes of Christmases Past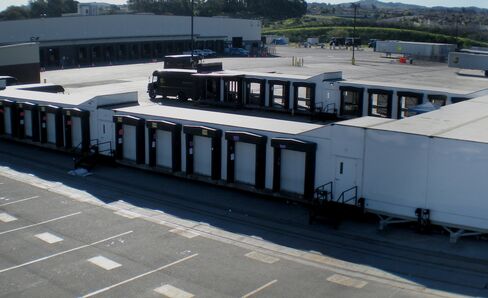 United Parcel Service Inc. is applying a twist on the Goldilocks principle as it tries to find a balance in hiring this holiday season and avoid the mistakes of the past two years: Not too much, not too little.
UPS will scale back hiring of temporary drivers and sorters at the mobile villages it built in 2014 as the world's largest package-delivery company tries to squeeze more efficiency out of existing assets, executives said Tuesday.
In trying to accurately gauge and prepare for peak season demand, UPS has both underestimated and overestimated. In 2013 it was caught off guard by a last-minute surge in e-commerce orders that led to missed deliveries on Christmas, and a year later it did the opposite by adding too many buildings and temporary staff, costing millions of dollars as facilities went underused.
"Everyone in our organization is focused on making sure that we have a good peak for investors, customers, and employees," Chief Executive Officer David Abney said in a conference call with analysts.
The slowdown in recruiting will show up in a smaller seasonal workforce. UPS hired 95,000 temporary workers in 2014 to supplement its permanent staff, a figure that had ballooned from the 80,000 it hired in 2013. Originally UPS planned as few as 55,000 workers that year.
"We're certainly expecting to hire less this year," spokesman Steve Gaut said, without giving a figure. UPS announced its initial 2014 seasonal-hiring plan in late October.
This time around UPS will use fewer "villages" -- collections of modular buildings resembling portable school trailers that help alleviate strain on the company's permanent sorting facilities. It set up 15 such structures in 2014, but won't need as many this year Gaut said because the company can accommodate more packages in its brick-and-mortar centers.
Access Point
UPS will also take on fewer drivers than it has in the past, while extending those employees' hours a bit to control costs, President of U.S. Operations Myron Gray said on the call.
In another effort to boost efficiency, UPS said it would expand its Access Point system to 100 U.S. cities ahead of the holidays. The program allows drivers to drop off packages at local stores rather than at people's homes, helping to avoid repeated attempts at delivery.
UPS shares soared the most in almost four years Tuesday after reporting earnings that beat estimates and saying its 2015 profit forecast should come in at the high end of its predicted range. They were up 5.5 percent to $100.35 at 3:01 p.m. after falling 14 percent this year through Monday.
Getting the holiday season wrong hurt UPS in the last quarter of 2014. Profit fell short of forecasts, and the shares tumbled the most in more than eight years. In February, only weeks after that disclosure, UPS said it was getting to work on its 2015 strategy.
Before it's here, it's on the Bloomberg Terminal.
LEARN MORE