Teva's $40.5 Billion Allergan Deal Sets Yet Another Local Record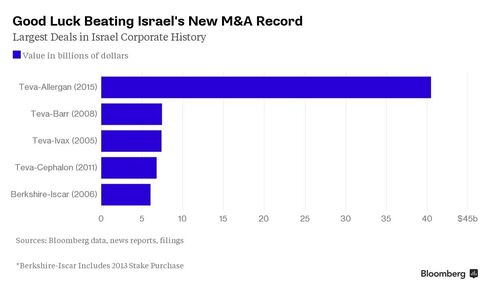 Teva Pharmaceuticals Industries Ltd. just keeps setting new records when it comes to Israel's corporate history.
The Petach Tikva-based drugmaker already had clinched the biggest deals ever in Israel with two acquisitions valued at more than $7 billion each in the past decade. Monday's deal with Allergan Plc topped that.
When Teva agreed to buy Allergan's generic-drug business for about $40.5 billion in cash and stock this week, it dwarfed the other four top Israeli transactions by at least $30 billion, according to Bloomberg data.
"This deal is not only meaningful in Israeli terms, it is of major significance on a global scale," Teva Chief Executive Officer Erez Vigodman told Israeli media on a conference call yesterday.
The planned takeover bolsters Teva's position as the world's largest maker of generic drugs and gives it greater negotiating power with governments and health insurers. It is also a reminder that in Israel, a country of 8 million residents, only one company has truly managed to become a global giant.
Before it's here, it's on the Bloomberg Terminal.
LEARN MORE