Northern White Rhino Closer to Extinction With Czech Zoo Death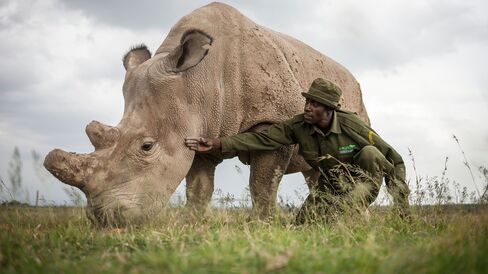 One of the world's most endangered animals, the northern white rhinoceros, edged closer to extinction when one of the last five of its kind known to exist died in a Czech zoo.
The 31-year-old female Nabire, who lived her life at the Dvur Kralove zoo, about 140 kilometers (88 miles) northeast of Prague, died on Monday of a ruptured cyst, the zoo said on its website Tuesday.
Nabire's death "brought another species closer to complete extinction," zoo director Premysl Rabas said. He blamed the plight of the northern white rhinoceros on "meaningless human greed."
Northern white rhinos were last seen in the wild in central Africa in 2007. Their disappearance stemmed from demand for their horns, which are used for medical and cultural purposes in some parts of Asia and the Arab world. The last surviving male lives in Kenya with two females, and the other female lives in San Diego, according to the Czech zoo.
Before it's here, it's on the Bloomberg Terminal.
LEARN MORE