Nine Charts That Show the U.S. Bull Market Is Thinning
Bad breadth
That sense of abandonment you're feeling in equities is real. Breadth is drying up, slowing down a U.S. bull market that is now the third-longest since 1940. Here are nine charts that show the rally is relying on fewer and fewer companies to maintain its gains.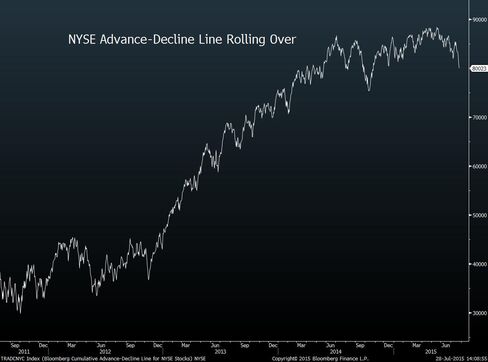 Falling stocks outnumber rising ones, day in, day out. That's pushing the cumulative New York Stock Exchange advance-decline line, or the number of daily gains minus declines, down for a third month after peaking in May. It's the longest losing streak since 2011.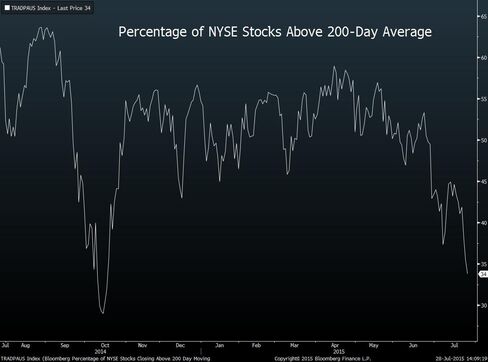 In many shares, the pace of the advance is slowing. The percentage of NYSE stocks trading above their 200-day moving average has fallen to the lowest level since October.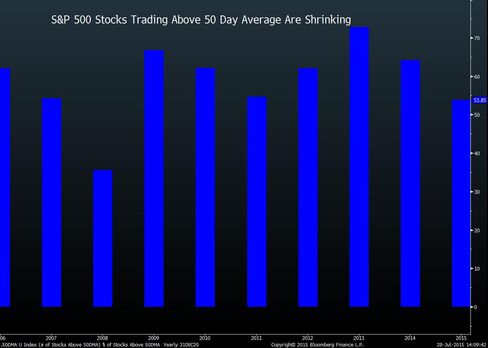 The picture worsens when the lens narrows. Compared with the 50-day moving average, the proportion of stocks closing above has been about 54 percent this year, down from 64 percent in 2014. The drop was the fastest since 2008.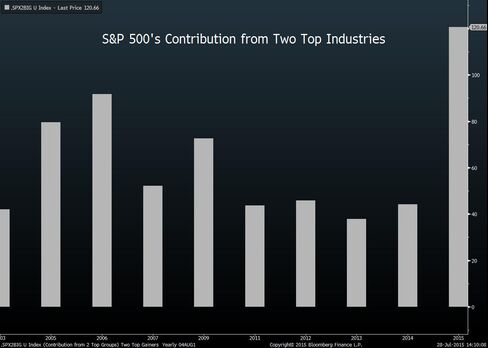 Two industries account for all of this year's increase in the Standard & Poor's 500 Index: healthcare and retail. That's the tightest clustering for an advancing year since at least 2000, data compiled by Bloomberg show.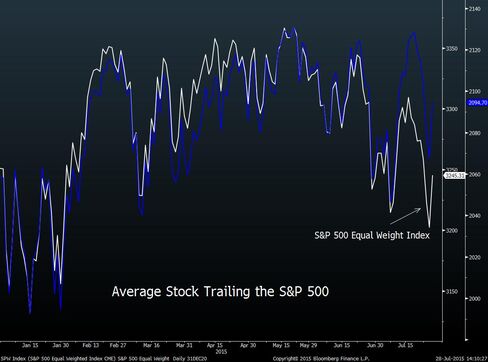 The average stock has failed to keep pace with the market. A version of the S&P 500 that strips out market-value biases, the S&P 500 Equal Weight Index, is down 1.5 percent in 2015, trailing the market-cap weighted measure by 1.9 percentage points, or the most since 2012.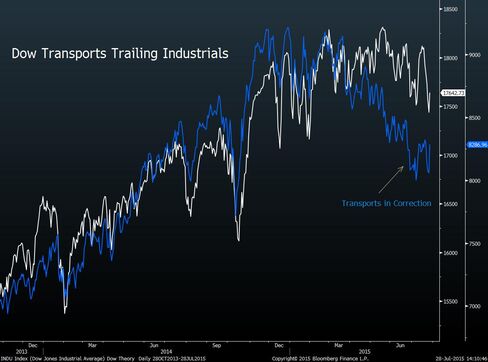 Transportation stocks are trailing the Dow Jones Industrial Average by the most in more than two years, raising concern among investors who follow a market-analysis technique known as Dow Theory, which holds that transportation and industrial stocks must advance together for market gains to last.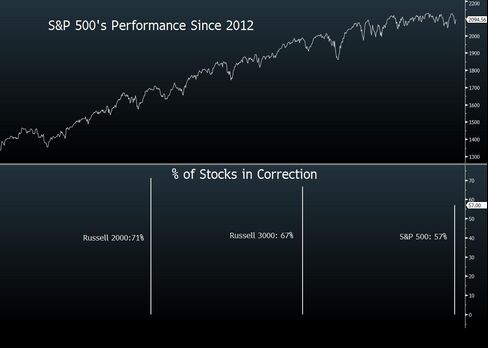 While the S&P 500 is hovering within 3 percent of an all-time high reached in May, the proportion of stocks that have fallen at least 10 percent from a recent peak is 57 percent in the benchmark measure, 67 percent in the Russell 3000 Index and 71 percent in the Russell 2000 Index of smaller companies.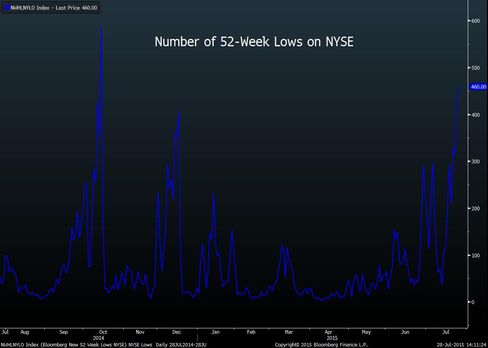 The number of stocks hitting 52-week low has risen to the most since October.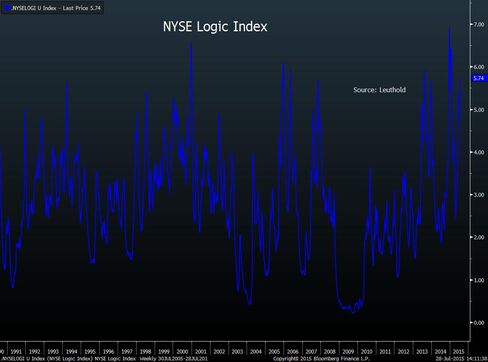 The 10-week average of NYSE High-Low Logic Index, which measures the extent of simultaneous highs and lows on the exchange, rose above 5 percent this month, a level suggests the markt has become "internally fractured," according to data compiled by Leuthold Group LLC.
Before it's here, it's on the Bloomberg Terminal.
LEARN MORE