Malaysian Premier Replaces Deputy to Head Off Cabinet Rumblings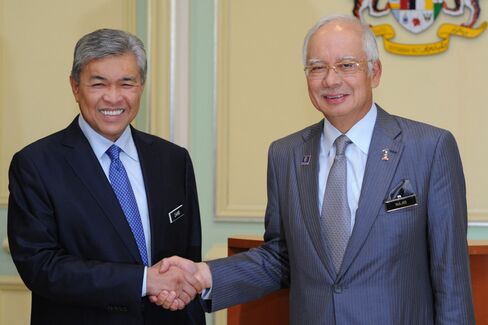 Malaysian Prime Minister Najib Razak sought to head off internal rumblings against his leadership, dumping his deputy and elevating an ally who has backed him in a scandal related to the debt-ridden state investment company.
The cabinet reshuffle comes as Najib faces his biggest crisis in six years in power amid multiple probes of 1Malaysia Development Bhd., whose advisory board he chairs, including one in which the Wall Street Journal reported that about $700 million may have found its way into accounts bearing his name.
With his deputy Muhyiddin Yassin stepping up calls in recent days for clarity on the 1MDB investigations, Najib opted to replace him Tuesday with Home Minister Ahmad Zahid Hamidi, who has said allegations and insinuations against Najib border on being criminal.
While Muhyiddin said he accepted the decision with an "open heart," the sparring risks eroding voter support for the ruling United Malays National Organisation at a time Najib is bedding down an unpopular goods and services tax and as economic growth slows. With the opposition in disarray, the biggest threat to Najib may come from within his own party, which lost the popular vote in 2013 even as it retained power.
"It's a sign of a lack of clear direction more than anything else," said Mohamed Nawab Mohamed Osman, assistant professor at the S. Rajaratnam School of International Studies in Singapore, of the reshuffle. "It might actually result in a bigger headache for him politically over the next couple of weeks."
Support Network
Malaysia's benchmark stock index fell 0.6 percent Tuesday, compared with a 0.1 percent gain before Najib's announcement.
"I must have a solid and unified team moving in the same direction," Najib said in televised remarks. "I welcome vigorous debate, and can accept dissent and criticism. However, this process should take place in cabinet as part of the decision-making process."
Multiple probes are under way into 1MDB, with the Journal reporting on July 3 that $700 million may have moved through government agencies and state-linked firms to accounts bearing Najib's name. The premier has denied taking money for personal gain and described the furor as part of a campaign to remove him from office.
Still, ousting Najib -- who enjoys support among UMNO division chiefs as well as the party rank and file for his populist policies -- would be difficult. He's built a support network since coming to power and won over members with a variety of pro-Malay policies in the past 18 months.
Zahid and Defense Minister Hishammuddin Hussein are among cabinet members who've expressed support.
Unified Team
Muhyiddin said in a statement Tuesday that he respects Najib's right to decide his cabinet.
"During my service I supported all the government's initiatives and the prime minister's leadership except on the issue of 1MDB, where I have my own principles and stance in defense of Malaysians, the party's reputation and national interests," he said.
Rural and Regional Development Minister Shafie Apdal also lost his position. Shafie is one of three vice presidents in UMNO, the biggest party in the ruling Barisan Nasional coalition.
Najib's new cabinet includes four members of Parliament's Public Accounts Committee, one of the groups investigating 1MDB. The appointees will need to step down from the committee and the probe will be halted until new members can be named in October when Parliament reconvenes, according to its chairman Nur Jazlan Mohamed, who was named deputy home minister.
'A Virus'
The government said it also was replacing attorney general Abdul Gani Patail for health reasons, with former Federal Court judge Mohamed Apandi Ali taking the role. The attorney general's office is on the task force investigating the money trail claims against Najib.
There are issues chipping away at Najib's popularity, mostly related to the economy. The most recent major opinion poll conducted in January showed his approval rating at 44 percent from 48 percent in October, near a record low of 42 percent at the start of last year.
If elections took place now, it's unlikely the UMNO-led Barisan Nasional coalition would win, Muhyiddin said Sunday. Najib's office said on Monday that infighting over 1MDB would erode support for the government and party.
"The criticism of his administration has been going on for almost two years now," said Ooi Kee Beng, deputy director of Singapore's Institute of Southeast Asian Studies. "From where Najib is sitting, it's a virus," he said. "This has to be seen in that context, that it's part of his strategy to stay alive."
Before it's here, it's on the Bloomberg Terminal.
LEARN MORE