Libya Court Sentences Sentences Son of Qaddafi to Death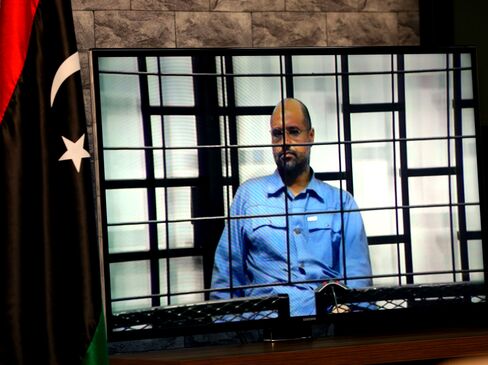 A Libyan appeals court sentenced the son of former leader Muammar Qaddafi to death, along with at least four regime officials, for their part in mass killings that occurred during a 2011 uprising that ultimately deposed the autocrat.
Saif Al-Islam Qaddafi wasn't present at the court in Tripoli, prosecutors said. All five men, including the elder Qaddafi's former spy chief Abdallah Senoussi and his last Prime Minister Baghdadi Mahmudi, were sentenced to death by firing squad, Libya's state-run LANA news agency reported.
Both the outcome and politics surrounding the trial reflect the chaos in Libya following Qaddafi's death after more than 40 years in power. The country is split between two governments and their militia allies, with the internationally recognized administration based in Tobruk in the east, and a rival Islamist government centered in Tripoli.
Saif Al-Islam Qaddafi is being held by militia allied to the Tobruk government, making it unlikely that he will face the firing squad in Tripoli. Still, he's also wanted by the International Criminal Court in the Hague on charges of crimes against humanity. Libyan officials have previously insisted he and other Qaddafi-era officials be tried in the country.
Judges in the capital faced pressure from the Islamists to reach a guilty verdict, the Tobruk government's justice minister said in comments carried by the Libya Herald newspaper on Monday. Rights groups have also criticized the proceedings as biased and lacking due process.
The trial was "marred with serious flaws that highlight Libya's inability to administer justice effectively in line with international fair trial standards," Amnesty International said in an e-mailed statement Tuesday.
A total of 37 people were charged in the case, according to LANA, which is allied to the government in Tobruk. In addition to mass killings, the charges included rape, breach of trust and corruption, the agency reported.
The United Nations has hosted several rounds of negotiations aimed at a peace deal between the two governments. An agreement was reached in Morocco on July 11, though the Tripoli-based government has refused to sign it.
Before it's here, it's on the Bloomberg Terminal.
LEARN MORE