It's Leumi's Year as Bank Sheds Troubles to Rise Most Since 2009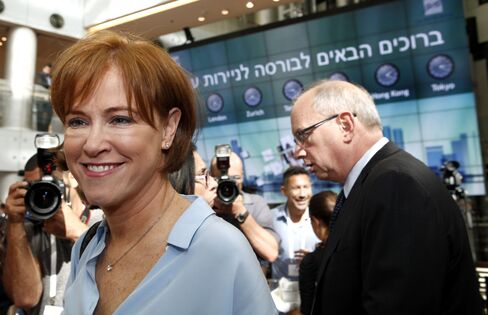 Bank Leumi Le-Israel Ltd.'s shares are having their best year since 2009, and the rally probably isn't over. That's a welcome change for Chief Executive Officer Rakefet Russak-Aminoach.
Since she took the helm of Israel's second-largest lender three years ago, the 49-year-old dealt with plunging profit, criticism for considering writing off a tycoon's debt and a U.S. tax evasion investigation that landed the bank with a $400 million fine.
Now Leumi's shares may rise about 9 percent in 12 months to add to the 23 percent gain this year, according to Barclays Plc, after it posted its best first-quarter net income in at least a decade. Israeli banks are striving to cut costs and improve efficiency as they face increased competition and regulatory requirements. Bank Leumi is the best performing and heaviest-weighted lender on Tel Aviv's benchmark index of equities in 2015.
"The bank is starting down a new road," Tel Aviv-based Meir Slater, the head of research at Bank of Jerusalem Ltd., said by telephone July 21. "Now that it has gotten rid of the weight of the U.S. probe, management can focus on its core activities and on growth."
To cut costs and boost profit in the record-low interest rate environment, Russak-Aminoach clinched a new salary deal with workers this year, sold stakes in assets including in Israel Corp. and Mobileye NV, and increased lending to high-tech companies. The government has reduced fees banks can charge, and the finance minister wants to separate credit card companies from lenders.
Cutting Costs
Leumi, which has increased credit to households and medium-sized companies and plans to set up a digital banking division, has a three-year efficiency program that will cut its workforce by 1,000 people by the end of 2017. The lender raised almost 3 billion shekels ($793 million) this month in its first bond sale in three years to finance operations.
"The management has proven in the past three years that it is committed to implement a strategy to improve efficiency and at the same time increase revenue, with emphasis on Israel," a Leumi spokesman said in an e-mailed statement to Bloomberg on Tuesday.
The bank's efficiency ratio, which measures costs compared with revenue, has dropped to around 60 percent, less than half the all-time quarterly high of 134 percent in 2006, according to data compiled by Bloomberg. That compares with an average ratio of 67 percent for Israeli banks. A decrease in the ratio could translate to higher profit.
Core Capital
Leumi's core Tier 1 capital ratio was 9.37 percent as of the end of the March, below the 10.25 percent level required by 1 January 2017 by the Bank of Israel. The target may be more difficult to reach after the lender implemented the Generally Accepted Accounting Principles on employee rights this year, increasing its total pension liabilities and impacting its equity.
Consequently, dividend payments aren't likely until 2017 at the earliest, Citigroup Inc. analyst Michael Klahr said in a note on the bank in June.
"Investors want to see a continued focus on cost efficiencies," London-based William Scholes, who helps oversee the Aberdeen Israel Fund Inc. at Aberdeen Asset Management Plc., said in an interview last week. "Leumi appears to have turned the corner on the Department of Justice, they have a liquid balance sheet that will give them more flexibility in growing the lending book and they have a lot of scope to cut costs, so there are some opportunities here."
Before it's here, it's on the Bloomberg Terminal.
LEARN MORE