Hottest Italian Summer in a Decade Set to Boost Utility Profits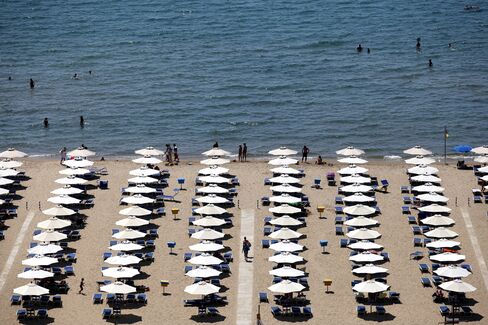 The warmest start of the summer in more than a decade is a welcome boost for Italian utilities faced with declining demand for their gas and power.
Profits from gas-fired power plants owned by companies from Edison SpA to Enel SpA are rising as the hottest summer since 2003 forces more Italians to turn on their air conditioners and fans. Power prices near a record and gas costs that gained the most in Europe will probably climb as Commodity Weather Group forecasts hot temperatures for at least 15 more days after cooling "a bit" this week, according to forecaster William Henneberg.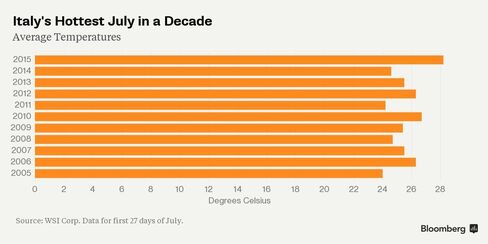 Italy's utilities have struggled with demand for power and gas, which declined after 2008 because of the economic slowdown and an increase in energy efficiency, according to Ref-e, whose clients include some of the nation's biggest energy suppliers and oil companies from BP Plc to Eni SpA. Revenue per megawatt of power production for a combined-cycle gas-turbine plant fell 56 percent from 2008 to 2014, the consultant said.
"This is the opportunity for power producers to realize margins not possible before," Virginia Canazza, a partner at Ref-e, said by phone from Milan July 23. "The summer has been very, very hot."
Italian power for next-day delivery climbed to 100 euros ($111) a megawatt-hour last week, an all-time high, as demand rose 4.5 gigawatts, or 12 percent, this month, according to broker data compiled by Bloomberg and Pira Energy Group estimates. Gas prices gained 5.1 percent this month, more than in the U.K., Europe's most traded market, the Netherlands and Germany.
Hydro Output
Temperatures in Italy were 2.9 degrees Celsius (5.2 Fahrenheit) above the 10-year average in the first 27 days of the month, according to WSI data. While this week will be cooler mainly in the north of the country, no major changes in the heat pattern are expected until mid-August, Henneberg said.
Lower wind and hydro generation are also supporting gas demand for power. About 3 terawatt-hours of electricity was produced from CCGT plants in the first two weeks of July, 1 terawatt-hour more than a year earlier, Ref-e estimates. That's about a quarter of Italy's electricity production capacity.
"Since the heat wave is so severe, it is also depleting water in reservoirs faster than in normal years," Bruno Brunetti, senior director of electricity at Pira, said by phone from New York July 23. "That creates more strength for prices down the road as well, certainly for a month or two."
Profits for Italian gas-fired power plants, or the so-called clean spark spread, were at 9.60 euros a megawatt-hour Monday, reversing losses in April. While that's higher than last year, profitability is still 51 percent below than the five-year average for this time of the year, broker data showed.
"Over the next two weeks, all will depend on the weather," Canazza said. "This is a very short-term situation and doesn't represent a structural change in gas demand."
Read this next:
Before it's here, it's on the Bloomberg Terminal.
LEARN MORE