Hedge Funds Near End of the Line for Bailouts on Railway Bet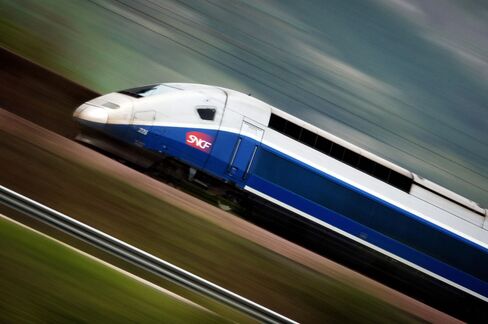 A collection of New York-based hedge funds has discovered where euro-area bailouts stop: short of their investments.
To the chagrin of a creditor group that includes Avenue Capital Group, BlueMountain Capital Management and Neuberger Berman, the rescue of a troubled railroad whose loans they bet on has failed to materialize.
That has left them holding losses in TP Ferro Concesionaria SA -- and little recourse. Governments in Spain and France have proved reluctant to lend a hand to international investors, banks and construction companies. The matter is most delicate for Spanish Prime Minister Mariano Rajoy, who faces voters in four months.
"Things don't look good," said Jose Garcia Montalvo, an economics professor at Pompeu Fabra University in Barcelona. "Getting any support from the government will be very hard for them."
Avenue, BlueMountain and Neuberger Berman bought some of TP Ferro's 445 million euros ($492 million) of loans at about 70 cents on the euro last year, which have since fallen to 50 cents, according to two people familiar with the matter. The rail company filed for insolvency proceedings on July 17 after the governments turned down its bailout requests and an international tribunal rejected its bid for compensation.
Todd Fogarty, a spokesman for Avenue at Kekst & Co. in New York, Doug Hesney, a spokesman for BlueMountain at Dukas Public Relations, and Alexander Samuelson, a spokesman for Neuberger Berman, also in New York, declined to comment on the negotiations or their holdings.
High-Speed Network
It's a miserable denouement for a project born in the boom that followed Spain's entry into the euro. The debt accumulated in borrowing for new housing, roads and power plants led to a European bailout for some of its banks in 2012 after the economy crashed.
TP Ferro was a 2003 joint venture between Spain's Actividades de Construccion & Servicios SA and Eiffage SA of France; they won a 50-year concession for a 44-kilometer rail line to link Figueres, in Spain, and Perpignan, on the French Mediterranean coast. The goal was to connect Barcelona and Madrid to Europe's high-speed train network.
Trouble is, the Spanish government delayed work to connect the new line to its domestic network. The first direct high-speed train from Paris to Barcelona left only in December 2013, almost five years after the completion of the track running under the Pyrenees. Even then, anticipated ridership and freight traffic never materialized and the aim of the original lenders and stakeholders has been to minimize losses. That's where the hedge funds stepped in.
Rescue Precedent
There was precedent for the Spanish and French governments to eventually extend a lifeline to TP Ferro.
The Spanish government paid 128 million euros to TP Ferro from 2009 to 2012 to "maintain the economic and financial equilibrium" of the business, while extending the contract by three years because of the construction delays, according to a government statement at the time.
Last year, bondholders who financed Spain's defunct Castor gas storage plant were repaid in full when the project was shelved.
Spain has also been locked in restructuring negotiations for years with lenders behind a group of bankrupt toll roads. The government wants to create a state highway company, with banks accepting losses on at least 3.5 billion euros of debt.
If TP Ferro's debtholders, which also include lenders Banco Bilbao Vizcaya Argentaria SA, ING Groep NV and Bankia SA, fail to reach an agreement with the owners and governments to restructure the debt in court, the company will be liquidated and its concession to operate the railway will end, leaving TP Ferro with no assets.
About 92 percent of companies that enter insolvency proceedings in Spain are liquidated, according to rating company Axesor's most recent data.
If TP Ferro suffers that fate, then creditors recovery will depend on how much the governments will pay under guarantees -- known as "responsabilidad patrimonial" in Spain -- triggered when a concession terminates earlier than contract terms. Negotiations over these payments, however, may take years.
"If it is at all possible to tie it up in knots until after the election, then they would," said Olly Burrows, London-based financials analyst at CRT Capital. "But they also need inward investment in Spain, so they don't want to be frightening people away. That would be a pyrrhic victory, not just politically but economically."
Before it's here, it's on the Bloomberg Terminal.
LEARN MORE