GKN Buys Fokker for $776 Million to Become Aerostructures No. 2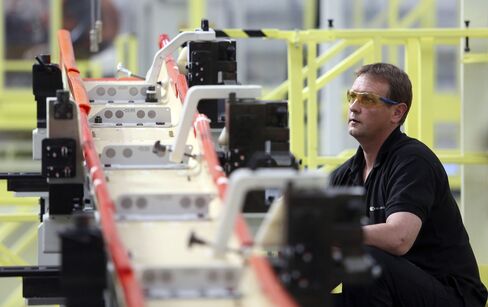 GKN Plc's purchase of Fokker Technologies Group BV will make it the world's No. 2 supplier of fuselage and wing parts, with leading positions on planes spanning the Airbus Group SE A350 to Lockheed Martin Corp.'s F-35 fighter.
The 706 million-euro ($776 million) deal announced Tuesday puts the U.K. company ahead of Triumph Group Inc. and behind only Spirit AeroSystems Holdings Inc. in the manufacture of aerostructures, as the lightweight components are known.
GKN became a top supplier to Airbus and Boeing Co. after buying the European planemaker's Filton plant near Bristol, England, six years ago. Purchasing Fokker from Arle Capital, which has managed it since private equity owner Candover Investments Plc became embroiled in the 2008 financial crisis, will add 750 million euros in sales and orders dominated by the A350 and F-35, Gulfstream G650 business jet and NH90 helicopter.
"This is a business that comes with growth and great positions on programs that are ramping up and are going to be around for a long time," GKN Chief Executive Officer Nigel Stein said in an interview, adding that talks with Arle took six or seven months. "We judged they were keen to sell. We're one of very few people that would be seen as appropriate owners."
GKN, which gets most of its revenue from making automotive parts, rose as much as 22.90 pence, or 7.8 percent, to 317.90 pence and was trading 7.4 percent higher as of 10:54 a.m. in London. The stock has declined 8 percent this year, valuing the company at 5.21 billion pounds ($8.1 billion).
New Markets
The transaction triples the units GKN will supply over the next four years to both the F-35 Joint Strike Fighter and A350 wide-body, projects that are rapidly expanding production.
Acquiring Fokker in its biggest deal since the $810 million acquisition of aero-engine maker Volvo Aero AB in 2012 also establishes GKN as the third-largest player in electrical wiring systems for aircraft, a market it wasn't previously in.
The takeover will also boost GKN's exposure to China, Turkey, India and Mexico. "We've had a goal of taking aerospace to broader parts of the world and this is a useful step forward," Stein said.
The company will use existing debt facilities and a 200 million-pound ($311 million) equity placement to fund the purchase of Fokker, which has 4,900 employees and also manufactures landing gear and has a services arm.
Fokker Failure
Fokker traces its roots to a company of the same name founded in the Netherlands in 1912 that ranked as the world's top aircraft manufacturer in the late 1920s, producing an early airliner that captured a significant chunk of the U.S. market.
After World War II, production focused on the F27 Fokker Friendship turboprop and later the Fokker 70 and 100 jets, as well assembly of Lockheed Martin F-16s warplanes. Competition from Boeing and Airbus led the company to seek an alliance with the aerospace arm of Daimler-Benz, the collapse of which pushed the Dutch company into bankruptcy in 1996.
The business was rescued by Stork NV, before Stork was bought by Candover. Arle, which took over management of the Candover portfolio in 2009, said proceeds from the GKN deal will help retire debt, with 90 million pounds going to investors.
Talks with Arle were eased by the seller's desire to dispose of Fokker amid ongoing litigation over the voluntary disclosure by the manufacturer of sanctions violations in Iran, which led to a $21 million settlement in the U.S., Stein said.
With the addition of Fokker, GKN's aerospace arm will have annual revenue of about 3 billion pounds, or 40 percent of the total, with the rest derived from supplying drivetrain technologies to auto manufacturers. Stein said further acquisitions are possible at both businesses.
Before it's here, it's on the Bloomberg Terminal.
LEARN MORE