Czech Bazooka Bigger Than Swiss Seen Keeping Speculators at Bay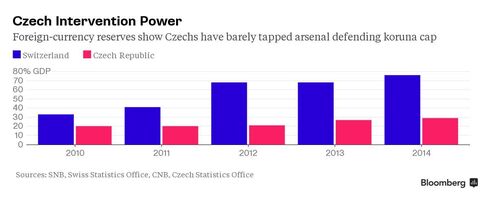 In the battle against currency speculators, the Czech National Bank is toting more ammunition than the Swiss -- in relative terms at least.
While Switzerland abandoned its cap on franc gains in January as foreign-currency reserves climbed to 76 percent of gross domestic product, the central bank in Prague is in a more comfortable position. Czech stockpiles at less than half of that level give the regulator scope to intervene because it risks a smaller loss on those holdings once the policy has served its purpose.
"Lower reserves and much smaller inflows from abroad mean the CNB's firepower to defend the floor is effectively bigger than in Switzerland," Jakub Seidler, a former analyst for the Czech central bank who's now the chief economist at the Prague-based unit of ING Groep NV, said by phone last week. "A premature exit or a lowering of the floor looks very unlikely."
Preventing the koruna from strengthening is key to Governor Miroslav Singer's plan to keep one of the fastest economic recoveries in Europe on track by fueling a pickup in inflation from 0.8 percent toward the 2 percent target. The central bank intervened to weaken the koruna in November 2013 and set a cap at around 27 per euro, spurring demand for Czech government bonds.
After four months of appreciation driven by an expanding economy and European Central Bank stimulus, the koruna tested the 27 mark this month, forcing the CNB to return to the market for the first time in 20 months. Policy makers say the intervention program needs to stay in place at least until the second half of 2016 to meet its inflation target.
'Unlimited' Interventions
The Czech regulator's legal mandate to achieve this goal "always has priority" over its ability to generate profit, and it will use "unlimited" interventions to stop further koruna gains, the bank said on its website. The Swiss National Bank made similar comments before it removed its cap.
"Future losses from the hoarding of foreign currencies are of little concern for the CNB," said ING's Seidler.
ING estimates the central bank has to sell about 34 billion koruna ($1.4 billion) per month to defend the limit, compared with the 200 billion koruna it sold in November 2013 to push the exchange rate above 27. Swiss foreign reserves came from a higher starting point and that shows the advantage for the CNB. This would lift foreign reserves to about 50 percent of Czech GDP in September 2016, from about 30 percent last December, ING said in a July 24 report.
Bond Rally
Czech government bonds rallied after the 2013 intervention as banks flush with cash sought to invest their increased koruna stockpiles. With the CNB back in the market, the yield on 10-year domestic sovereign notes fell 20 basis points last week, the biggest drop since November 2012. The rate traded at 0.96 percent on Tuesday, the lowest in almost eight weeks.
Switzerland's central bank abandoned its 40-month-old limit of 1.20 francs per euro in January when it faced more inflows as euro-area quantitative easing was poised to start. Since mid-January, the franc has gained 13 percent against the euro, intensifying a decline in consumer prices and making Swiss exports less competitive. The move rocked global currency markets, triggering billions of dollars in losses for investors as the franc surged, gaining as much as 41 percent against the euro on Jan. 15.
Defending the koruna limit will be easier as demand pales in comparison with that for Switzerland's haven currency, according to Peter Attard Montalto, a strategist at Nomura Holdings Inc.
The koruna hasn't traded at 27 per euro since November 2013, having averaged 27.5 in the period, according to data compiled by Bloomberg. It stood at 27.02 as of 3 p.m. in Prague.
"The Swiss National Bank was intervening constantly and building massive reserves at huge future costs," Montalto said by phone from London on July 23. "There's not a big flashing light over cost for the Czech National Bank at all yet, which will make them more willing to take on the market."
For more, read this QuickTake: Currency Pegs
Before it's here, it's on the Bloomberg Terminal.
LEARN MORE