Brazil Port Town's Boom-to-Bust Is Window Into What Went Wrong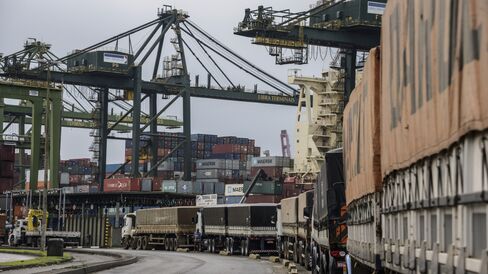 Santos Port has always been known as Brazil's gateway to the world. Now, it's also a window into what went wrong in Latin America's biggest economy.
Exports from Santos have tumbled as demand from China sags. Companies betting on a boon as massive offshore oil finds were developed are now scaling back after Petroleo Brasileiro SA said it will cut investments by a third. And real-estate prices are falling as entire buildings stand vacant.
Nowhere, perhaps, are Brazil's unfulfilled promises as an almost superpower more apparent than Santos, Latin America's busiest port. About an hour outside of Sao Paulo, Santos benefited from the dual boon of the commodities supercycle and the government spending spree it afforded. Now, it's feeling the double blow of a corruption scandal at Petrobras and Brazil's worst recession in a quarter century.
"There's a feeling that Santos, just like Brazil, has missed its opportunity and the golden years have passed us by," said Karla Simionato, coordinator of economic science at the Catholic University of Santos.
Only one of the three towers that Petrobras planned to build for a new 25,000-square-meter office complex in Santos was completed, and the other two are on hold. Local businesses that flocked to the industrial neighborhood, driving up property prices in anticipation of an influx of 6,000 workers, are now closing or never opened at all.
Buyers' Remorse
"Lots of owners bought land for restaurants and regret it," said Paulo Latrova, head of the shop-owners association in Santos. "Wherever Petrobras set foot, they brought progress and investment. That's not happening here."
Petrobras didn't respond to requests for comment, and the Santos mayor's office declined to comment.
Back when China's appetite for commodities seemed endless and Petrobras was the darling of global investors, companies from Eni SpA's Saipem unit to Iesa Oleo & Gas SA announced plans to set up operations in or near Santos. Sitting at the crossroads between Brazil's biggest-ever oil discoveries in an offshore area known as the pre-salt and the nation's agricultural heartland, Santos's exports almost doubled in six years, peaking at $5.93 billion in 2012, according to Brazil's Trade Ministry.
How times have changed. Revenue from shipments are down 20 percent during the first six months of 2015 after falling 25 percent last year, the data show. Unemployment in Santos rose to 12.2 percent in May, up more than 2 percentage points from four years earlier, according to Santa Cecilia University. And falling demand for large office spaces has driven down prices 3 percent from December, said Robert Zarif, an economic consultant who tracks the local market.
Analysts in a central bank survey published Monday forecast Brazil's economy to shrink 1.76 percent this year. Standard & Poor's on Tuesday said it may cut the nation's credit rating to junk.
Neymar, Pele
"We can blame Santos's situation on two factors: the effects of Petrobras reducing its investments and the economic recession," said Carlos Eduardo Lima, president of public works at Brazil's construction industry confederation. "It's a perfect photograph of Brazil's slowdown."
Better known as the town where soccer star Neymar Junior got his start and where sports legend Pele spent the bulk of his career, Santos is one of Brazil's oldest cities. Founded in 1546, the city center is lined with cobble-stone streets and colonial-era buildings.
Three blocks from the Petrobras tower sits another office project, this one finished but mostly unoccupied. When Cyrela Brazil Realty SA broke ground on the project in 2010, it declared Santos "the center of excellent opportunities."
'Even Worse'
Neymar's old team, Santos FC, was a major selling point back then. At the time, Santos FC was on its way to becoming the South American club champion a year later. Now, it's on the verge of dropping out of the Brazilian National League's top division.
Today, only three of the 212 offices in the building have been rented. Cyrela said in an e-mail response to questions that it sold all the units and renting is the responsibility of the owners.
"When we bought office space we had the allure of Petrobras and pre-salt," said Edson Delgado Boschilia, administrator at real-estate company Infinity Holding. "Since April, nobody is looking to rent an office from us. And if you don't have interested renters, the chances of selling are even worse."
Before it's here, it's on the Bloomberg Terminal.
LEARN MORE