Barclays Puts Netflix and Google on List of Possible Shorts
Rethinking growth stocks.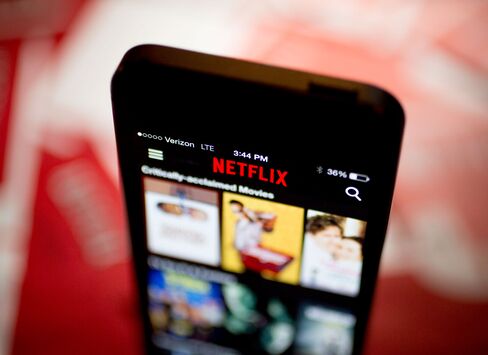 With economic activity still running stubbornly slow across the globe, investors have been rushing to buy the rarest of market beasts; shares of companies with high revenue growth. However, according to a new note out of Barclays, time may be running out for what has been one of the most popular strategies of recent years.
Here's what analysts Jonathan Glionna, Eric Slover and Mario Lu have to say:
The stocks of companies that are growing have been outperforming. But, has the outperformance of growth companies gone too far? We see evidence that it has. The fastest growing companies usually trade at a higher price-to-earnings multiple than the S&P 500, but the gap is wider than normal. In addition, the fastest growing companies have a median price-to-sales ratio of 3.5x, which appears high in relation to companies with slower growth prospects.
According to the Barclays analysts, investing in companies with high expected revenue growth has proved to be a poor strategy in the long-run.
They say there are two reasons for this. For a start, expectations for high growth are not always met. Secondly, there is a strong correlation between companies with high revenue growth and high price-to-earnings ratio, meaning you are often paying --through the nose -- for potential revenue growth. In fact, buying stocks with high price-to-earnings ratios and selling stocks with low price-to-earnings ratios would have "resulted in substantial losses" over the last 25 years, the analysts say.
Impatient readers may be asking at this point just what they should be doing if not buying growth stocks. Barclays recommends shorting companies that carry the highest price for revenue growth. Screening the S&P 500, they find the following 32 companies fit the bill for "high-priced growth" where revenue potential has become too dear.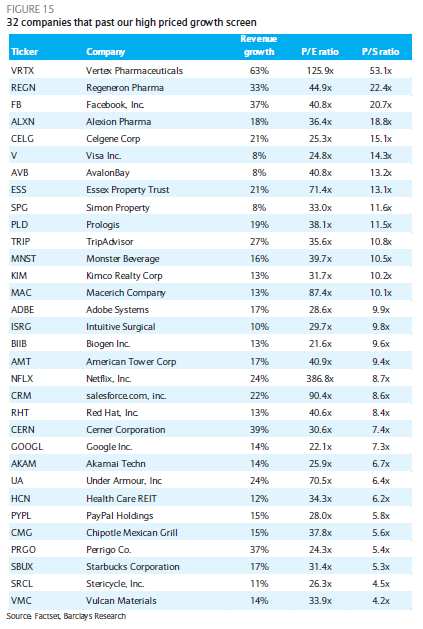 Meanwhile, it's worth noting here that a few of the names on Barclays' list, such as Netflix and Google, have helped propel much of the overall increase in the S&P 500 index this year. Bloomberg News reported earlier this week that combined gains from Amazon, Apple, Facebook, Google and Netflix actually exceed the S&P 500's in 2015.
Before it's here, it's on the Bloomberg Terminal.
LEARN MORE