Altria, Philip Morris Should Become One Company Again: Real M&A
It may be time to put Altria Group Inc. and Philip Morris International Inc. back together.
The world's most valuable tobacco companies split apart more than seven years ago to set free the faster-growing overseas operations while the U.S. business was entangled in smoker lawsuits. But things have changed since then, and the rationale that justified the separation no longer exists.
Altria, the $108 billion maker of Marlboro cigarettes that reported its second-quarter results Wednesday, has largely put the legal morass behind it. And Philip Morris, its $133 billion international counterpart, has lost its luster as cigarette demand wanes in Europe. Both stocks are now trailing rival Reynolds American Inc., which in June completed its $28 billion acquisition of Lorillard Inc., owner of the Newport brand.
As a result of that merger, the industry is consolidated to a point where the only remaining takeover options for Altria and Philip Morris are probably one another. They've already begun working more closely together in recent months, joining forces to develop new products such as electronic-vapor cigarettes.
"This could be a step toward an eventual recombination," Ken Shea, an analyst for Bloomberg Intelligence, said in a phone interview. "Being geographically diverse is probably a good thing for a tobacco company now. Philip Morris is the best option for Altria to team up with."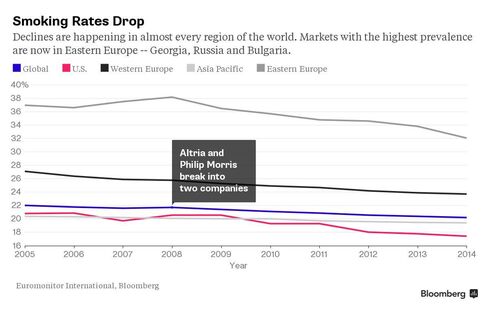 Spinoff Rationale
Iro Antoniadou, a spokeswoman for Philip Morris, said that "many of the reasons articulated by the board at the time of the spinoff are still relevant today." She declined to comment on whether Philip Morris is considering a merger with Altria, as did Bill Phelps, a spokesman for Altria.
"Altria spun off Philip Morris International so that each business could focus exclusively on their own opportunities and to address their own challenges with the ultimate goal of building long-term shareholder value," Phelps said by phone. "It's important to look at the results Altria has achieved since the spinoff."
Altria's share price has more than doubled since Philip Morris began trading separately in March 2008. The company's second-quarter profit topped analysts' estimates, and it raised its annual forecast. The stock is projected to climb less than 6 percent over the next 12 months, according to analysts' estimates compiled by Bloomberg.
As smoking rates diminish in most regions of the world, growth is hard to find. Becoming one company again would allow Altria and Philip Morris to fuse their research and development efforts and share resources.
It would also make Altria a global entity once again, while giving Philip Morris renewed exposure to the U.S., where cigarette makers have strong pricing power. The three most popular brands -- Marlboro, Newport and Camel -- are owned by two competitors: Altria, the U.S. market leader, and Reynolds, which is No. 2.
Activist Bait
With so few of Altria's and Philip Morris's shares owned by insiders, neither company is safe from activist investors, should any take interest. Officers and directors at Altria own just 0.2 percent of the stock. The figure is 0.3 percent at Philip Morris, data compiled by Bloomberg show.
While the companies' size could be a deterrent -- a 5 percent stake in Altria would cost more than $5 billion -- some activists have had success taking even small positions in large companies. Nelson Peltz owns just 1.25 percent of PepsiCo Inc. yet has had influence as an activist shareholder at the $141 billion soda giant.
Investors also tend to get behind activist campaigns when a stock is underperforming, as Philip Morris's has. The share price has fallen 4.9 percent in three years, while the Standard & Poor's 500 Index added 55 percent. Altria gained 52 percent in that span.
"There really is no blockade from an ownership standpoint" at Altria and Philip Morris, Shea said. "It could allow activists to challenge the status quo."
Before it's here, it's on the Bloomberg Terminal.
LEARN MORE