Turkey Says Syrian Kurds Must Fight Assad or Risk Attack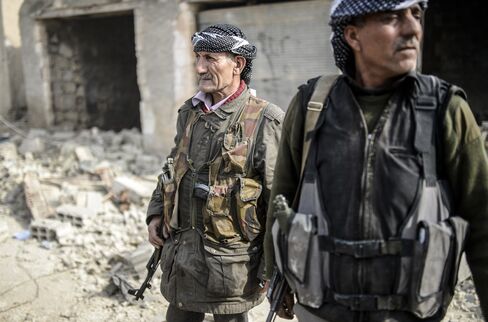 U.S.-backed Kurds in Syria risk coming under attack from Turkey if they don't align themselves with Turkish interests in the country.
Prime Minister Ahmet Davutoglu told newspaper editors over the weekend that the Syrian Kurd PYD group battling Islamic State must side with "moderate rebels" supported by Turkey against the forces of Syrian President Bashar al-Assad.
"We want moderate rebels to replace" Islamic State fighters as they're pushed back from Turkey's border, Davutoglu said. The PYD will be treated "in the same way" as Islamic State "if they engage in activities that disturb us," he said.
On Sunday, Turkish airstrikes pounded Islamic State positions in Syria and camps of a group in northern Iraq with ties to the PYD that has been battling for autonomy for Turkey's Kurds. Turkey has called for a meeting of NATO ambassadors on Tuesday to "inform allies of measures it is taking," NATO said.
Turkey's offensive began after Islamic State militants killed 32 people in southeast Turkey, triggering reprisals by Kurdish rebels who accuse the government of turning a blind eye to the al-Qaeda breakaway group's activities.
Buffer Zone
Davutoglu's remarks were his most serious warning yet to the rebel group, which the U.S. is backing with airstrikes in the fight against Islamic State in Syria.
Last week, Turkey agreed that the U.S. could use its Incirlik base for airstrikes against Islamic State. Turkey has also said it wants to create a buffer zone along its border with Syria to insulate it from security threats.
The proposed buffer zone is still up for discussion between the U.S. and Turkey, a Turkish official told Bloomberg on condition of anonymity, following regulations that prohibit civil servants from speaking to media. If the safe zone is established, Syrian refugees in Turkey who wish to go back to their country can be accommodated in those areas, the official said. It wasn't clear what role Turkey would play in forming the safe zones.
Turkey's Foreign Minister Mevlut Cavusoglu said on Saturday that eliminating the group's militants from Iraq and Syria would "automatically result in the establishment of safe zones."
Turkey has long tried to persuade the U.S to expand the scope of military operations in Syria to target Assad and create areas in the country where some of the nearly two million refugees Turkey harbors can be accommodated.
(An earlier version corrected the spelling of the Turkish prime minister's name.)
(Updates with Turkish official comments in eighth paragraph.)
Before it's here, it's on the Bloomberg Terminal.
LEARN MORE