Another Yemen Cease-Fire Breaks Down Amid Clashes, Airstrikes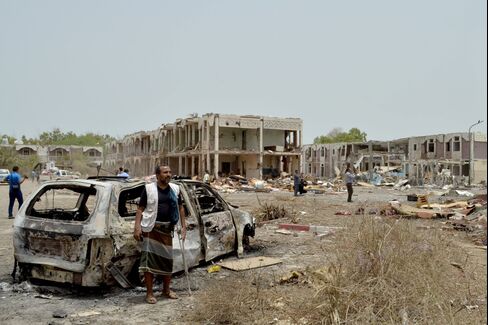 The latest effort to halt Yemen's civil war broke down within hours amid reports of attacks by Shiite rebels and airstrikes against them by the Saudi-led coalition that had declared a humanitarian cease-fire.
In the southern province of Taiz, Shiite Houthi rebels and their supporters shelled residential areas, Fekri Saeed, a local resident, said by phone. The rebels also bombed pro-government forces in the southern region of al-Dali, said Mohammed al-Shuaibi, a resident. There were also clashes in Lahj and the oil-rich province of Mahreb, al-Arabiya television reported.
Meanwhile, the Saudi coalition also resumed its bombardment, with airstrikes targeting the Houthi rebels and their allies in Aden, which the Saudi-backed forces say they have recaptured, and Taiz.
The Saudis have led a four-month bombing campaign aimed at rolling back Houthi gains and reinstating the government ousted by the rebels. The Houthis still control much of Yemen, a country that lies adjacent to key shipping routes, even after suffering some losses in Aden.
The coalition had said it would pause hostilities for five days starting late Sunday, to allow for the delivery of humanitarian assistance. Aid agencies say the country faces dire food, water and fuel shortages. Two previous cease-fire attempts also quickly collapsed as violence erupted, first in May and then in early July during the holy month of Ramadan.
'Humanitarian Catastrophe'
On Sunday, United Nations Secretary-General Ban Ki-moon called on all parties to observe the cease-fire, citing concern about the growing number of civilian casualties. The UN says at least 1,693 civilians have died, and another 3,829 injured since the coalition airstrikes began in March.
In the absence of a cease-fire and with a blockade halting aid deliveries, Yemen is heading towards a "humanitarian catastrophe," said Bruce Riedel, a senior fellow at the Brookings Institution.
"The failure of another effort at a pause says to me we need something much more tangible than a brief interruption of the fighting, we need a permanent cease-fire," Riedel said. "But we don't see much sign that that's on the horizon."
The Shiite group seized control of Yemen's capital Sana'a in September before forcing the internationally recognized government to flee the country this year. It sought refuge in Saudi Arabia. The Saudis say the rebel group is backed by Iran, which the Houthis deny.
Earlier, Mohammed Ali al-Houthi, one of the rebel leaders, said that the Houthis hadn't been officially informed of the cease-fire by the UN secretary-general, and wouldn't take a position on it until they were, according to Yemen's Saba news agency, which is under Houthi control.
Before it's here, it's on the Bloomberg Terminal.
LEARN MORE