India's Rivalry With China May Help This Spanish Train Maker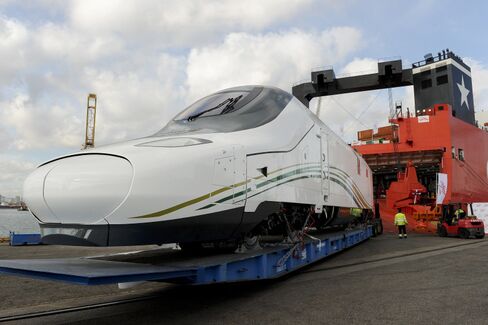 Spanish train-maker Talgo SA sees an opportunity in India's tense relationship with China.
Companies such as Talgo, Germany's Siemens AG and France's Alstom SA face stiff competition for global train deals from Chinese state-run giant CRRC Corp. Their chances may be better in India, where border and naval rivalries with the Communist nation are weighing on bilateral ties.
"We're open to any possible approach, partnership or projects related to the construction and maintenance of train technology in India," Chief Executive Jose Maria Oriol Fabra said in an interview in New Delhi. The spats between India and China give Talgo an advantage over CRRC as India's government pursues a railway modernization drive, he said.
Fabra said he'd like to manufacture and export from India to compete with Chinese trains on price rather than technology alone. He was speaking during a trip to promote his products as Prime Minister Narendra Modi seeks a $132 billion upgrade of the nation's congested network. The question is where Modi will find all the money, as an effort to woo foreign investment fizzles.
"India will take time to mature, to take decisions, but we are pretty sure that this market will explode," Fabra said in the July 22 interview. "We need to produce in India, that's a must."
Madrid-based Talgo, which specializes in higher-speed trains, plans to bring one to the South Asian nation in the next few months to showcase its capabilities. Fabra counts Asia as the top market for growth potential.
Indian Market
India has identified nine corridors for trains with speeds of as much as 160 kilometers an hour (100 miles an hour) to 200 kilometers an hour, terming them semi high-speed.
Other companies are looking at Indian opportunities too, such as Knorr-Bremse AG, which says it's the top maker of braking systems for rail and commercial vehicles. Railroads globally may need $5 trillion of investment by 2030, the International Union of Railways estimates.
Talgo's shares, down about 33 percent since an initial public offering in May, rose as much as 3 percent in Madrid on Tuesday. The company reported net income of 23.5 million euros ($26 million) in the first six months of 2015, a 57 percent increase on a year earlier.
Investment Fund
Fabra said Talgo's technology can boost speeds on existing tracks. Its trains run in Spain, Portugal, France, Switzerland, Italy, the U.S., Kazakhstan and Uzbekistan, according to the company's website. In July, it said Saudi Railways Organization canceled a $201 million contract for six passenger trains.
State-controlled Indian Railways aims to invest 8.5 trillion rupees ($132 billion) in Asia's oldest network through 2020. Modi is trying to reverse chronic underinvestment and reduce congestion that can slow speeds to below walking pace.
The government is considering setting up a fund to get nearer the target, with the World Bank and private institutions among possible contributors, the multilateral lender has said.
"The message I got from different operators I met is they really want to invest," Fabra said. "There's a clear willingness to upgrade. They're serious."
Before it's here, it's on the Bloomberg Terminal.
LEARN MORE