India Blames Pakistan Group for Attack Killing 6 in Punjab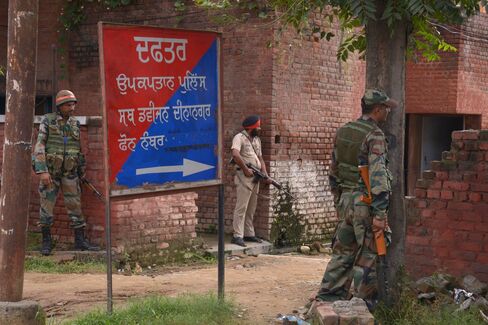 India blamed a Pakistani militant group for an attack on Monday that killed six people and threatens to disrupt planned talks between the nuclear-armed neighbors.
As many as four gunmen dressed in army uniforms attacked a bus station and a police complex in India's northern Punjab state bordering Pakistan. Security forces had the militants surrounded in a police complex for more than eight hours.
"I can't understand why time and again cross-border terror incidents are taking place when we want good relations with our neighbor," Home Minister Rajnath Singh told Press Trust of India on Monday.
India's Home Ministry suspects that Pakistan-based militant group Lashkar-e-Taiba is behind the attacks, a government official told reporters in New Delhi. He asked not to be identified, citing ministry rules.
The incident is the most serious since Prime Minister Narendra Modi came to power last year. While border incidents are common in Jammu and Kashmir state further to the north, Punjab has been relatively peaceful over the past decade.
Modi had met Pakistani Prime Minister Nawaz Sharif earlier this month for the first time in more than a year, sparking hopes of a detente between the long-time foes. The national security advisors from both countries had planned to meet soon to restart a peace dialogue.
"It's all up in the air now," said C. Uday Bhaskar, director of the Society for Policy Studies in New Delhi. "The attack shows a certain degree of professionalism and bears the hallmark of a larger agenda of derailing the process."
Planned talks were called off last year over repeated cease-fire violations and India's objections to a Pakistani envoy's meeting with separatists based in Jammu and Kashmir.
Mumbai Attacks
India alleges Lashkar-e-Taiba carried out the November 2008 attacks targeting a railway station and luxury hotels in Mumbai that killed 166 people. Modi has pushed for Pakistan to punish Zaki ur Rehman Lakhvi, a leader of Lashkar-e-Taiba who India accuses of masterminding the attacks. A Pakistan court released Lakhvi on bail in April.
The victims on Monday included one superintendent of police, two security personnel and two other civilians, Abhinav Trikha, a deputy commissioner in Punjab, said by phone. Police also found bombs on railway tracks. A woman was among the militants and fired at police, television stations reported.
Before storming the police complex, the militants fired at a bus station, killing a food seller and injuring several others, according to Rajinder Parshad, a sub inspector at the Dinanagar Police station.
"They are fully weaponized and carrying a lot of ammunition," Parshad said by phone of the attackers.
Before it's here, it's on the Bloomberg Terminal.
LEARN MORE