Draghi's 'Whatever It Takes' Marks Three Years Proving Enough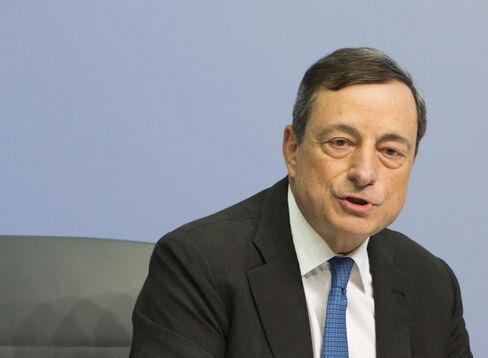 Few remember what Mario Draghi said next, but he's kept his word.
Three years on from his ad-hoc commitment to do "whatever it takes" to save the euro, the European Central Bank president has lived up to the subsequent statement "and believe me, it will be enough."
Greece is still in the single currency bloc, the broader euro-area economy is strengthening and financial markets are calm despite the recent bout of turmoil from Athens. Spain's 10-year bond now yields less than 2 percent compared with almost 8 percent in July 2012.
The upshot was that Draghi backed talk with action and in doing so did "enough" to keep the euro alive, even if it is down 9 percent this year against the dollar.
He created the Outright Monetary Transactions program, which -- although never tapped -- served to quell the risk of contagion when Greece blew up again. Markets were also anesthetized as he slashed interest rates to almost zero and finally persuaded his colleagues to sign up to quantitative easing.
In seeking to protect his 19-nation economy, Draghi transformed the ECB from a reactive central bank to a modern proactive one. Gone is the institution of 2008 and 2011 which hiked interest rates even in the face of a slumping economy and which focused on inflation alone.
Unconventional Actions
"The fact that it is active in markets, prepared to use its balance sheet and closely involved in political decisions is anathema to the historic model of German central banking," said Huw Pill, chief European economist at Goldman Sachs Group Inc. "The mandate is now quite flexible and pretty extensive as he defines it."
While some in the region, especially in Germany, have blanched at his efforts, Draghi has also won legal backing for them. The European Court of Justice recently handed the ECB "broad discretion" over what measures are appropriate for safeguarding the single currency, enhancing its powers to act unconventionally.
For the most recent evidence that the spirit of July 2012 lives on, look no further than Draghi's willingness this month to push colleagues for an increase in emergency aid for Greek lenders and his statement that the ECB acts "on the assumption that Greece will remain a member of the euro area."
According to Pill, a former ECB official, the lesson is Draghi will do what he can to keep the euro whole. If Greece leaves, it will be because politicians rather than central bankers decide.
That doesn't mean he will have failed if Greece does quit the euro as many economists still think will happen at some point.
ECB Mandate
"'Whatever it takes' should not be confused with irreversibility," said Marco Valli, an economist at UniCredit SpA in Milan. "The ECB has all instruments to intervene in any kind of crisis, unless the reason for a crisis is a government that is bent on challenging the basic convergence criteria that keep the euro area together."
There still may be a price to pay if investors begin to ask just how far the ECB will stretch its mandate or if its willingness to be flexible prompts politicians to delay the tough decisions necessary for the euro to thrive.
"Where will a central bank that acts like this stop?" Ulrich Leuchtmann, head of foreign-exchange strategy at Commerzbank AG, said in a recent report to clients after Draghi surprised his colleagues by backing an increase in aid to Greek lenders.
For Draghi, the desire is still that less of the burden for preserving the euro falls on his shoulders. He recently said that the currency union he helps to manage "is imperfect, is fragile, is vulnerable, and doesn't deliver" as he pushed governments to work harder to safeguard its future.
"Draghi is the real president of Europe," said Philippe Gudin, chief European economist at Barclays Plc in Paris.
Read this next:
Before it's here, it's on the Bloomberg Terminal.
LEARN MORE