Down to Business: Missiles to Tourism Seen on China-Turkey Talks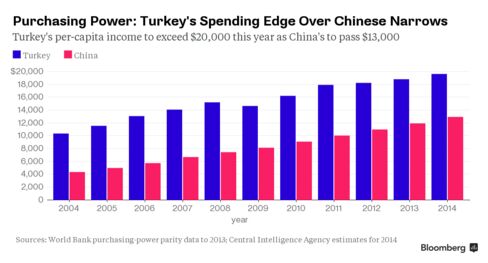 Security issues are expected to overshadow trade when Chinese President Xi Jinping hosts his Turkish counterpart Recep Tayyip Erdogan on Wednesday, even though about 100 business people are expected in the delegation.
Trade between China and Turkey was $28.6 billion last year, ranking China third behind Germany and Russia. Shipments were heavily in China's favor, with $24.9 billion of exports to Turkey, mostly consisting of electronics, machinery, clothing and raw materials. The one-sided balance is built on Turkey's need for technology and resources.
"It is impossible to close the trade gap, but it can be narrowed," said Volkan Yuzer, Asia-Pacific business coordinator at the Istanbul-based Foreign Economic Relations Board and a member of the delegation. "Even more importantly, this trip is aimed at attracting Chinese investment into Turkey."
The recent takeover of Tekstil Bankasi AS by Industrial & Commercial Bank of China Ltd., the world's second-largest bank by market value, gives China an Istanbul-based financial arm to support commerce and a central-Asian asset to enhance Xi's aim to boost international use of the yuan.
China Merchants Group is among the bidders for a stake in Kumport, Turkey's third-largest port. Fiba Holding owns 65 percent of the facility and units of the Oman finance ministry own the rest. Fiba's billionaire founder Husnu Ozyegin will be in the delegation, according to Yuzer.
Purchasing Power
Turkey's $800 billion gross domestic product last year ranked among the world's top 20, just ahead of Saudi Arabia and Switzerland, though that's less than a 10th of China's $10 trillion economy. The average Turkish citizen is richer than Chinese peers measured by purchasing power parity. Per-capita income in Turkey was $19,600 last year, compared with $12,900, according to estimates by the U.S. Central Intelligence Agency.
Among Chinese companies, Huawei Technologies Co. uses its offices in Turkey as regional headquarters for 11 countries in Central Asia and the Caucasus. Haier Electronics Group sells products ranging from air conditioners to medical devices.
"One big item that Turkey can export to China is food," Yuzer said by phone. Much of what it currently sends are materials such as marble and copper.
Security is likely to overshadow business, though the biggest project at issue between the two countries -- a missile system -- is a mixture of the two. China is competing against the U.S. and a French-Italian partnership to supply Turkey's military.
Missile Defense
Turkey tentatively agreed in 2013 to buy a $3.4 billion missile defense system from China Precision Machinery Import-Export Corp., but soon put off the deal amid intense pressure from fellow North Atlantic Treaty Organization members.
Turkey has since said it's considering alternatives to the HQ-9 surface-to-air missile system, including a U.S. Patriot system led by Raytheon Co. and another from French-Italian partnership Eurosam GIE, although the Chinese system is reported to be cheaper by at least $1 billion.
"What we know from the Turkish embassy in China is that the Turkish government is assessing different offers, including from the U.S., Europe and China," said Iraz Turhan, representative of the Turkish Industry and Business Association's Beijing office. "We are not sure Turkey is certain to buy China's system."
Other security issues include China's treatment of Uighurs, Muslims who populate its Xinjiang region in the northwest, and Turkey's participation in efforts to fight the Islamic State in Syria.
Transport & Tourism
Less controversial is Turkey's use of Chinese rail technology. Locomotive maker CSR Corp. was the main foreign supplier for Turkey's Ankara-Istanbul high-speed railway, and will likely be central to another project to link the nation's east and west borders. Xi and Prime Minister Li Keqiang have been pushing rail technology in home-and-away meetings with leaders from Russia to India, Angola and Peru. Transport lines are a centerpiece of China's effort to create a modern Silk Road through its so-called Belt-and-Road initiative.
Meanwhile, Turkish efforts to lure more high-spending Chinese tourists, which included easing visa requirements, took a hit this month after some businesses and tourists were targeted during some violent anti-Chinese protests in Istanbul, prompting the embassy in Turkey to issue a travel warning.
The number of Chinese visitors to Turkey in the first five months of this year rose 48 percent from a year earlier, to 106,000.
"I assumed that the tourism industry would be affected after the anti-China demonstrations," Turhan said. "But when I tried to book a ticket back to Turkey a couple weeks ago, all the flights on Turkish Airlines and China Southern Airlines were overbooked."
— With assistance by Yi Zhu, and Onur Ant
Before it's here, it's on the Bloomberg Terminal.
LEARN MORE