China Property Rebound Spurs Onshore Investor Demand for Bonds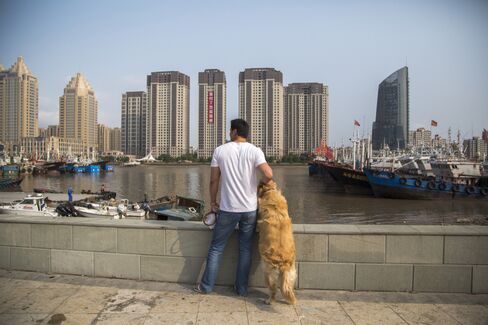 A rebound in China's property market has spurred onshore investor demand for bonds issued by developers, helping cut their borrowing costs.
Longfor Properties Co. will sell five-year AAA rated notes to yield 3.93 percent Monday, compared with the average 4.09 percent rate on securities with similar maturities and credit scores in the secondary market. Beijing Tian Heng Development Group, issued AA, rated five-year debt at 4.12 percent July 22, less than the 5.22 percent on comparable debentures.
"Investors are changing their perceptions about property companies," said Zhang Li, a bond analyst in Beijing at Guotai Junan Securities Co. "They've come to realize property developers' credit profiles are improving."
Chinese bond investors' increasing bullishness on property debt mirrors a similar shift in equities, with the Shanghai property stock index surging 19 percent since July 8, topping a 14 percent rally in the broader gauge. Home sales jumped 13 percent in the first half, compared with a 9 percent decrease a year earlier, after authorities reduced interest rates and eased property curbs.
Tianjin Tianbao Infrastructure Co. sold five-year AA+ bonds at 4.5 percent on July 21, compared with a 4.77 percent secondary-market average yield.
Chinese developers have stepped up onshore bond sales after authorities allowed more of them to tap the domestic market. Builders issued a record 67.1 billion yuan ($10.8 billion) of notes in the second quarter, up from 44.4 billion yuan the previous three months.
China loosened mortgage policies and down-payment requirements for some homebuyers at the end of March, adding to easing measures since September to aid an industry that's been weighing on economic growth.
— With assistance by Judy Chen
Before it's here, it's on the Bloomberg Terminal.
LEARN MORE