Australian Dollar's 20% Drop Isn't Over Yet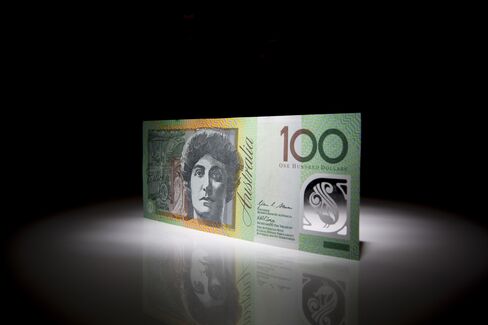 Money managers and chart watchers are converging in their view that the more than 20 percent tumble in Australia's dollar over the past year isn't over yet.
Harmonic Capital Partners and Deltec International Group are among those betting on further declines amid deteriorating commodity markets and a weakening Chinese economy. Technical analysts at Westpac Banking Corp. and CMC Markets Plc see risks the currency will slump toward 70 U.S. cents.
"The current pressures go against the Australian dollar, so we are positioned for a continued weakening," said Patrik Safvenblad, chief investment officer in London at Harmonic Capital, which manages $1.8 billion. "The move has been quite big and the market will need to settle down and figure out what the right level is."
The bearish predictions will be welcomed by Reserve Bank of Australia Governor Glenn Stevens, who has used almost every occasion to say a weaker currency would aid the economy as commodities collapse. Citigroup Inc. has picked iron ore, the nation's top export earner, as the best raw material to bet against even though it's plunged more than 45 percent over 12 months.
The Aussie has tumbled from as high as 95 cents in the middle of last year, sliding to 72.57 on Tuesday, the lowest level since May 2009. It traded at 73.10 as of 6:53 a.m. in London.
Aussie Shorts
Hedge funds and other large speculators increased wagers that the currency will weaken against the greenback for a fifth straight week in the period ended July 21, according to the latest report from the Commodity Futures Trading Commission in Washington. The net 40,850 bearish contracts are the most since mid-April.
Options markets also are seeing further declines as likely. Sentiment on the Aussie is the most bearish among Group of 10 currencies based on risk reversal rates, data compiled by Bloomberg show.
Australia & New Zealand Banking Group Ltd. analysts found on a recent tour of Singapore, Hong Kong and Tokyo that clients were similarly bearish.
"We heard quite a downbeat assessment of Australia, with almost all investors expecting a weaker" Aussie, Martin Whetton, ANZ's Sydney-based senior Australia interest-rate strategist, wrote in a note dated July 27. There's "an almost universal view that the RBA would be 'forced' to cut rates again."
Cut Anticipated
Swaps show 58 percent odds the RBA will reduce borrowing costs at least once more by year-end from a record-low 2 percent, even as Stevens has signaled reluctance to cut borrowing costs further.
Yields on three-year government notes fell as much as 41 basis points after rising to a 2015 high of 2.20 percent on May 12. The debt yielded 1.88 percent Tuesday in Sydney. Shorter maturities are more sensitive to monetary policy expectations.
The Aussie will decline to 72 cents by year-end, according to the median estimate among analysts surveyed by Bloomberg.
"We've got a negative view of the Australian dollar," said Atul Lele, who manages $2 billion as chief investment officer of Nassau, Bahamas-based Deltec International Group. "The Reserve Bank's going to have to cut rates materially from the current point. We can very easily see the RBA cutting twice before the end of the year."
After rebounding as much as 8.4 percent between April and May, the Aussie reaffirmed its downtrend when it broke a head-and-shoulders pattern on July 3, according to Imre Speizer, a senior market strategist at Westpac in Auckland. It will fall toward 70.40 cents over the next couple of months, he said.
'Falling Knife'
"That area -- 70-ish -- seems like a sensible target that might provide at least a temporary stopping point," he said. "But there's potential for it to fall much further."
CMC Markets says the Australian dollar is currently testing support at around 72.80 cents, a level derived from a trendline drawn across the lows of January and March, and from the size of the leg lower between May 14 and June 1.
The odds of a drop to 70 cents or lower are about 40 percent over the next few months, according to Ric Spooner, chief analyst at CMC Markets in Sydney, with those odds rising to two-in-three over a one-year horizon.
"The fundamental scenario is one where the Aussie dollar could be a relatively weak currency for a while," he said. "I'm certainly not an advocate of trying to catch a falling knife."
Before it's here, it's on the Bloomberg Terminal.
LEARN MORE