Another Attack, Another Blow to India-Pakistan Diplomacy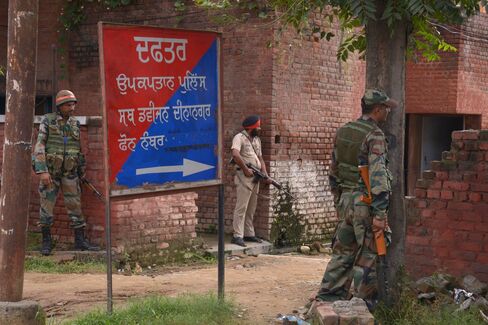 Just when nuclear-armed neighbors India and Pakistan agreed to start high-level talks for the first time in more than a year, a terrorist attack has put everything on hold.
India pointed the finger at Pakistan for a strike on Monday that killed three civilians and four policemen in Punjab, a state bordering Pakistan and the disputed region of Kashmir that had been relatively peaceful over the past decade. That put security forces on alert elsewhere in India.
Pakistan's foreign ministry condemned the attack "in the strongest terms" and extended sympathies to the government and people of India. Even so, that won't convince many in India.
The incident came only weeks after Prime Minister Narendra Modi held talks with Pakistani counterpart Nawaz Sharif for the first time since he took power in May 2014. Top security officials from both countries have been planning to meet soon to restart a peace dialogue.
"It's all up in the air now," C. Uday Bhaskar, director of the Society for Policy Studies in New Delhi, said of the proposed talks. "The attack shows a certain degree of professionalism and bears the hallmark of a larger agenda of derailing the process."
At about 6:30 a.m. on Monday, three militants dressed in army uniforms opened fire at a bus station in Dina Nagar, about 20 kilometers (12 miles) from the Pakistani border. They then moved to a police complex, where they were holed up for about 12 hours before security forces shot them all dead.
Cross-Border Terror
Soon after the attack began, an Indian official told reporters in New Delhi that the militants were suspected to be members of Pakistan-based group Lashkar-e-Taiba. Home Minister Rajnath Singh later told Press Trust of India that he couldn't understand why "cross-border terror incidents are taking place when we want good relations with our neighbor."
In a meeting of India's top security officials on Monday night, Modi's government asked the border security force to find out how the attackers could've breached the boundary, PTI reported, citing an unidentified senior official.
Relations between India and Pakistan have been particularly patchy since 2008, when attacks on a railway station and luxury hotels in Mumbai killed 166 people. India blamed Lashkar-e-Taiba for the strike, and cut off ties with Pakistan until it admitted in 2009 that the attack could've been planned on its soil even as it denied official involvement.
Pakistan Divisions
Peace efforts since then have failed to get off the ground. After Sharif attended Modi's inauguration in May 2014, India canceled follow-up talks when Pakistan's envoy met with Kashmiri separatists. That was followed by the worst border fighting in a decade in Kashmir, the cause of two of the three wars between India and Pakistan since partition in 1947.
India sees divisions between Pakistan's civilian and military leadership scuttling any peace efforts. While many Indians view Nawaz Sharif as sincere, they also see his peace overtures being undermined by Pakistan's army, which has ruled the Muslim-majority country for more than half of its history.
"India's big fear is that the power to make critical security decisions on policy does not rest with the civilian leaders of Pakistan," said Sreeram Sundar Chaulia, dean of the Jindal School of International Affairs outside of Delhi. "It contributes to doubts about the capacity of Nawaz Sharif to deliver peace."
Before it's here, it's on the Bloomberg Terminal.
LEARN MORE