Abdul Kalam, India President Who Led Missile Program, Dies at 83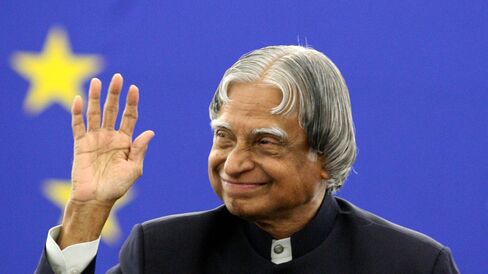 A.P.J. Abdul Kalam, an architect of India's missile program and the country's 11th president, has died. He was 83.
He collapsed Monday during a lecture in Shillong, the capital of India's far eastern Meghalaya state, the Press Trust of India reported, without saying where it got the information.
"India mourns the loss of a great scientist, a wonderful president and above all an inspiring individual," Prime Minister Narendra Modi said in a posting on Twitter.
Kalam, the son of a ferry-boat owner, played a lead role in the 1998 nuclear tests that prompted international sanctions against India and, as a government aerospace engineer, helped develop the country's missile technology.
He received India's highest civilian award for his role in the nation's missile program. Kalam helped develop India's first satellite-launching rocket in 1980 and the Prithvi and Agni missiles in the late 1980s that form part of India's nuclear deterrent against neighbors Pakistan and China, with which it fought a border war in 1962.
Kalam served as India's president, an essentially ceremonial position, from 2002 to 2007.
Avul Pakir Jainulabdeen Abdul Kalam was born on Oct. 15, 1931, in the southern state of Tamil Nadu and studied aeronautical engineering at Madras Institute of Technology, according to his website.
Before it's here, it's on the Bloomberg Terminal.
LEARN MORE