Two Turkish Soldiers Killed in Car Bomb Amid Escalating Violence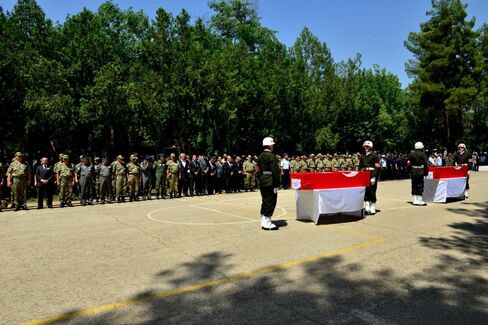 Two soldiers were killed in a car bomb in southeast Turkey, as the country's military reportedly ordered some officers to cancel holidays to control escalating violence following a crackdown on militant groups and jihadists.
The explosion near Lice, Diyarbakir province, also wounded four other Turkish soldiers, the state-run Anadolu Agency reported early Sunday. In the western city of Izmir, an unidentified group attacked public buses and a bomb exploded in front of the provincial office of the ruling AK Party, the agency said.
The incidents are the latest in a cycle of violence that began when a suicide bomb killed at least 32 people, mostly pro-Kurdish activists, near the Syrian border on July 20. Authorities have said Islamic State was probably behind it, and Turkey responded by bombing the group's positions in Syria, as well as air strikes against Kurdish PKK rebels in northern Iraq.
In addition to Sunday's bomb attacks, suspected PKK members burned down vehicles at an irrigation dam in the eastern province of Kars, Anadolu reported. In Istanbul, six alleged members of PKK's youth wing were detained over a planned attack on a police headquarters, the agency said.
The Turkish military canceled all holidays for officers in "crucial regions," while those already on leave were called back, the Hurriyet newspaper reported on its website Sunday, without citing anyone. The order applies to Turkey's second and third military divisions as well as "anti-terror units in western provinces," the newspaper said.
Security forces have detained at least 590 people across Turkey on grounds that they were members of terrorist organizations, including the PKK and Islamic State, Prime Minister Ahmet Davutoglu told reporters in Ankara on Saturday. Military and police operations would continue, he said.
Government actions amount to an "end to the de facto cease-fire" between the state and the PKK, the pro-Kurdish Peoples' Democratic Party said in a statement on Saturday.
An alleged member of the Revolutionary People's Liberation Party/Front, or DHKP-C, was killed by police in Istanbul, Anadolu reported on July 24. The group is classified as a terrorist group by Turkey, the U.S. and the European Union.
Before it's here, it's on the Bloomberg Terminal.
LEARN MORE