Assad Urges Syrians to Join the Army Amid Troop Shortage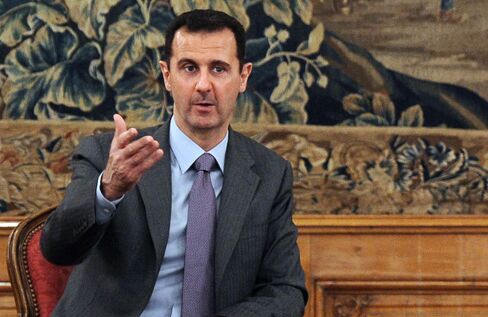 President Bashar al-Assad urged more Syrians to join the army, saying a shortage of troops is the main obstacle preventing the military from winning the war against rebel groups.
Assad, speaking a day after he issued an amnesty for deserters, said that more people have been joining the army, but the number of soldiers wasn't enough to win a conflict fought on multiple battlefronts.
While Assad denied that his appeal shows the military is collapsing, the remarks were a rare public acknowledgment of his struggle to crush a four-year rebellion. Government troops, supported by the pro-Iranian Hezbollah group, are fighting dozens of rebel and militant groups including the U.S.-backed Free Syrian Army, as well as Islamic State and an al-Qaeda affiliate.
The amnesty "is one step, and the rest is up to society," Assad said in a televised address on Sunday. "The people who don't defend the homeland have no homeland."
Assad's troops have suffered a series of setbacks this year, losing ground to Islamic State militants and other opponents. The Syrian Observatory for Human Rights, a U.K.-based organization that monitors the conflict, said in May that the al-Qaeda breakaway group controls half of the country's territory.
Assad said that his army was forced to abandon some areas because it had to to set priorities. "Thinking that we could win every battle is unrealistic," he said.
Major Cities
Yet while the government has lost authority over large swathes of the country, it still controls several major cities including the capital Damascus, Homs and the port city of Latakia.
The war in Syria has claimed the lives of more than 200,000 people. About 11 million people were forced to flee their homes in one of the world's worst humanitarian disasters. Talks have failed to halt the violence, and Assad said on Sunday he believed progress on the battlefield is the key to solving the crisis.
"We are at a fateful stage that doesn't allow for compromises," he said. "We are steadfast and we will win."
Before it's here, it's on the Bloomberg Terminal.
LEARN MORE