World's Worst Currency Drop Sparks Race to Cut Brazil Forecasts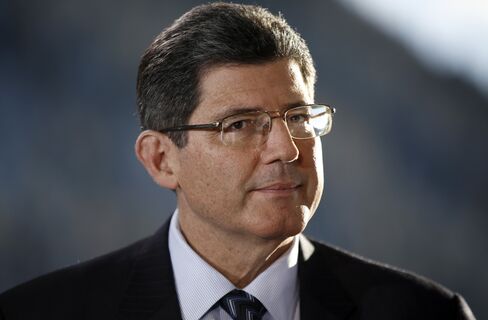 The Brazilian real's 5 percent tumble this week, the most among major currencies worldwide, has forecasters reviewing their exchange-rate targets after the government said it won't meet fiscal goals.
The real dropped to a 12-year low Friday, falling faster and further than economists had predicted, after Finance Minister Joaquim Levy asked lawmakers to cut a key budget goal. The move sparked speculation that Brazil's credit ratings will be cut as Latin America's largest economy heads for the worst recession in a quarter century.
The real weakened 2.1 percent to 3.3551 per dollar, the weakest level since March 2003. The real is down 21 percent this year, the worst performance against the dollar among the 31 most-traded currencies. The median of 49 analysts surveyed by Bloomberg had forecast the real to trade at 3.25 at year-end.
"Everyone will need to review their forecasts -- there's no way you can think those numbers are still valid," Paulo Nepomuceno, chief economist at Coinvalores in Sao Paulo, said by telephone. "I, for one, thought the real would stay between 3.15 to 3.25 per dollar, but that band is getting more distant in the short term."
Levy played down the threat of a credit downgrade, saying his decision to propose reduced budget savings hasn't changed Brazil's ability to meet bond commitments.
"There is not a fundamental shift in the debt dynamics and our capacity to pay debt, in particular external debt," he said Thursday during a conference call hosted by JPMorgan Chase & Co. "The buffers in the Brazilian economy are quite significant."
New Risks
Swap rates, a gauge of projected changes in Brazil's borrowing costs, advanced as a central bank official said he sees new risks to the 2016 inflation outcome, only days after the government cut its target for budget savings.
"Recent developments show that there are new risks to the inflation outcome for 2016 that might affect longer-term horizons," Economic Policy Director Luiz Awazu Pereira said Friday in prepared remarks for an event in Rio de Janeiro posted on the bank's website.
Swap rates advanced 0.23 percentage point to 13.87 percent on the contract maturing in January 2017, the highest level since July 1.
The plunge in Brazilian asset prices is drawing some value-seekers.
Ashmore Group, which manages about $60 billion of emerging-market assets, said the real's plunge is making Brazilian local-currency government debt more attractive, especially with yields of almost 14 percent.
Jan Dehn, the head of research at Ashmore, said the government is likely to meet its scaled-back fiscal targets and eventually cut interest rates to bolster economic growth.
"I would buy now, and then I would buy again on a downgrade," Dehn said said in an interview from London. "You get a country that is borderline investment grade suddenly trading in a high-yield level, and that makes it interesting and cheap."
Before it's here, it's on the Bloomberg Terminal.
LEARN MORE