Visa Says FIFA Needs New Leadership Amid Bribery Probes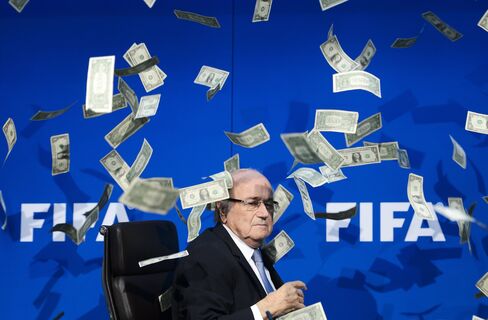 Visa Inc., which has been reassessing its sponsorship of FIFA amid international bribery investigations, on Thursday called for new leadership at the soccer World Cup's governing body and a third-party commission to initiate reforms.
"We view the stewardship of our company, our brand, and our clients with the utmost importance and try to hold ourselves to the highest standards," Chief Executive Officer Charlie Scharf said Thursday on a conference call. "We seek to partner with those who think and act like us. I don't believe that FIFA is living up to these standards."
Corporate sponsors have been pressuring FIFA after authorities outlined years of alleged corruption at the organization. According to the U.S. Justice Department, FIFA officials received bribes and kickbacks that were meant to influence the awarding of media and marketing rights, along with the choice of the host country for the 2010 World Cup. In response, FIFA has suspended a former vice president and plans to elect a new president after Sepp Blatter said earlier this year that he'll step down.
FIFA's responses to the accusations have been "wholly inadequate and continue to show its lack of awareness of the seriousness of the changes which are needed," Scharf said. "Two things need to happen to ensure credible reform. First, an independent, third-party commission led by one or more impartial leaders is critical to formulate reforms. Second, we believe no meaningful reform can be made under FIFA's existing leadership."
'Profound' Disappointment
Visa, the world's biggest bank-card network, extended its deal with FIFA last year to the 2018 World Cup in Russia and the 2022 event in Qatar. The firm was among five marketing partners for the 2018 tournament listed on Zurich-based FIFA's website. The Foster City, California-based lender said in May that it will study its sponsorship of FIFA if the global soccer governing body fails to reform, amid "profound" disappointment over indictments stemming from the allegations.
"FIFA values the input of its commercial affiliates as the organization continues to cooperate with the ongoing investigations by U.S. and Swiss authorities," the organization said in an e-mailed response to questions. "FIFA's goal is to achieve the highest standards of governance and accountability for the international football community."
Before it's here, it's on the Bloomberg Terminal.
LEARN MORE