U.K. Seen Extending Growth Streak as Carney Flags Rate Increase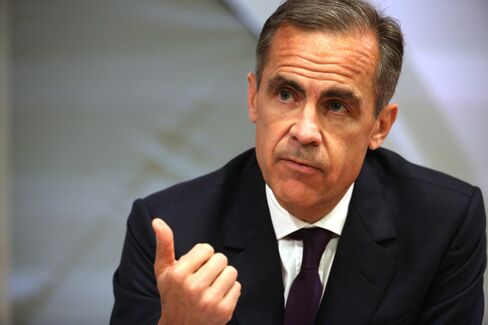 U.K. economic growth probably accelerated in the second quarter, as consumers sustained a recovery that's pushing Bank of England policy makers to consider the first rate increase in eight years.
The 0.7 percent growth forecast by economists in a Bloomberg survey would mark Britain's 10th consecutive quarter of expansion. The economy hasn't experienced such a streak since before falling into recession in 2008.
While the recovery is projected to persist, domestic demand is carrying much of the burden and Bank of England Governor Mark Carney has warned of headwinds that may limit the pace of expansion. That's something he and other policy makers will consider as they assess the outlook for inflation and when to increase interest rates.
"The big picture is still that this is a domestically centered recovery," said Ross Walker, an economist at Royal Bank of Scotland Group Plc in London. "It's a bit of a mixed bag, because manufacturing output looks like it's stalled while industrial production will be relatively firm."
The Office for National Statistics will publish the GDP report on Tuesday. A first estimate, it will be based on about 44 percent of the information that will ultimately be available. In the first quarter, growth was revised up to 0.4 percent between the first and third publications.
'Adverse Impact'
Data last week indicate retail sales probably contributed to growth in the second quarter, even after an unexpected decline in June. While oil boosted total industrial output in April and May, manufacturing output declined amid sluggish growth in the euro area, Britain's biggest trading partner.
The strength of the pound continues to drag on exports, with even the BOE warning of this could have an "adverse impact on the balance of growth in the economy."
With the labor-market improving and wages rising, BOE officials have begun to speak more forcefully about raising the benchmark interest rate from a record-low 0.5 percent, and Carney says they will have better visibility on this at the end of the year. Data last month showed incomes are rising at the fastest pace in more than five years.
GDP is projected to increase 2.5 percent in 2015 and 2.3 percent in 2016, according to economists in a Bloomberg survey. While growth is being sustained for now, there's still a long way to go before the U.K. equals the pre-crisis period, which saw 16 years of non-stop quarterly expansion.
Second-quarter growth "looks set to come in at about 0.6 percent," said Samuel Tombs, an economist at Capital Economics in London. "A respectable figure, but certainly not one that is going to prompt the MPC to rush into raising interest rates."
Read this next:
Before it's here, it's on the Bloomberg Terminal.
LEARN MORE