Turkey Renews Kurdish Crackdown Amid Offensive on Islamic State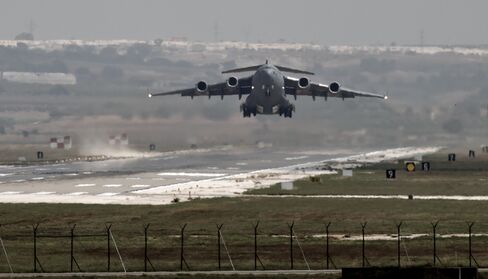 Turkey carried out a second wave of air-strikes and broadened its targets to include Kurdish rebels as well as Islamic State, while police arrested hundreds of suspects from both groups in nationwide raids.
F-16 warplanes took off late Friday to bomb Islamic State positions in Syria, according to a statement from the office of Turkish Prime Minister Ahmet Davutoglu, after carrying out initial strikes early the same day. The "shelters, bunkers, logistical points and caves" of Kurdish PKK rebels in northern Iraq were also hit. The operations were backed by "fire support" from Turkish land forces, according to the statement. Security personnel detained 288 suspects across Turkey last night, bringing the total held to 590, Davutoglu said today.
Turkey's actions against Islamic State follow months of U.S. pressure for the NATO member to take a more active role. Turkey acceded to another longstanding U.S. request this week by allowing use of a key base for air-strikes by American jets.
Yet Friday's roundup of militants shows how differently the two allies still view the conflict in Syria. The U.S. has given air support to the Syrian Kurds, who have close ties with the autonomy-seeking Kurdistan Workers' Party, or PKK, in Turkey, as they battle jihadists. Turkey considers both sides to be terrorists.
Not Sincere
"The raids are consistent with Turkey's public comments about viewing the PKK and ISIS as equal threats," said Aaron Stein, a non-resident fellow at the Atlantic Council's Rafik Hariri Center for the Middle East.
That stance has infuriated Turkey's Kurdish minority, as much as 20 percent of the population, and may further endanger the government's stalled peace talks with the PKK to end a three-decade insurgency.
"The government, state institutions and the military have taken steps to end the de facto cease-fire," the pro-Kurdish Peoples' Democratic Party, or HDP, said in an e-mailed statement Saturday. President Recep Tayyip Erdogan and Davutoglu aim to control the country by relying on security policies, making the establishment of a coalition impossible and forcing an early election, the party said.
HDP got more than 13 percent of votes in the June 7 general elections, becoming Turkey's fourth-largest party and securing 80 seats in parliament.
In his comments about the police raids, Erdogan focused on the "separatist" threat of the PKK. The government will go after all "terrorist groups no matter what their names are," he said.
Vote Calculus
There are "no boundaries to the climate of violence created by Erdogan," the HDP said. The group previously said some of its leaders were arrested in the raids.
The governor of Istanbul banned a "peace march" that was to be held on Sunday, citing the need to protect public order. Online access to a number of Kurdish news websites was banned, Hurriyet newspaper reported.
Erdogan and the ruling AK Party, which he co-founded, broke a longstanding taboo in Turkish politics by initiating a dialog with the PKK, but recently they've been backpedaling from the plan.
That may reflect electoral calculations: in the vote last month, the AKP lost its parliamentary majority for the first time in more than a decade. The absence of a clear winner may force the country to go back to the polls within months. AKP lost support both to a Turkish nationalist party opposed to any concessions to the Kurds, and to HDP.
Refugee Crisis
Turkey's week of violence began with a suicide bomb that killed at least 32 people, mostly pro-Kurdish activists, near the Syrian border on Monday. Authorities said Islamic State was probably behind it.
The PKK, which accuses Turkey of turning a blind eye to the jihadist group, launched a wave of retaliatory attacks, killing at least three policemen and a soldier, while another policeman was reported to have been kidnapped. One soldier also died in a cross-border firefight with Islamic State.
The carnage has spooked investors in the $800 billion economy, the region's largest.
The benchmark stock index was the world's worst performer on Thursday, though it recouped some of those losses with a 0.5 percent gain on Friday. The lira fell more than 3 percent this week to close at 2.7378 per dollar while yields on two-year bonds surged above 10 percent for the first time in more than a month.
Flight Time
Turkey argues that its differences with the U.S. and other NATO countries reflect the fact that it's on the frontline of the Syrian war, while they aren't. Erdogan says Turkey is hosting about 2 million refugees and has spent more than $6 billion while its allies fail to provide much help.
Still, pressure from the U.S. persuaded Turkey to accede to a longstanding request this week for use of the Incirlik airbase, near the Mediterranean Sea, against Islamic State.
The Foreign Ministry said on Friday that the government has "granted clearance for the deployment of manned and unmanned aircraft from the U.S. and other coalition members participating in air operations." Turkey and the U.S. will together decide which countries may use Turkish military bases, Foreign Minister Mevlut Cavusoglu said in Ankara on Saturday.
Turkey's previous reluctance to provide such assistance has required U.S. planes to attack Islamic State positions from bases in Qatar, refueling on the way. By contrast, when Turkey's F-16s took off to drop four bombs on Islamic State positions in Syria early Friday morning, the flight took about 28 minutes, according to the Turkish military.
"After the recent terrorist attacks, the Turkish government reaction is to show their citizens that they are serious about confronting ISIS," said W. Robert Pearson, of the Middle East Institute in Washington, a former U.S. ambassador to Turkey. It remains to be seen whether Turkish efforts against Islamic State will be sustained in any meaningful way, he said.
"These operations are not a one-off," Davutoglu said on Friday. "They are not limited to a single day or location."
Before it's here, it's on the Bloomberg Terminal.
LEARN MORE