Crude Oil Plunge Lifts Reliance Profit to Highest Since 2007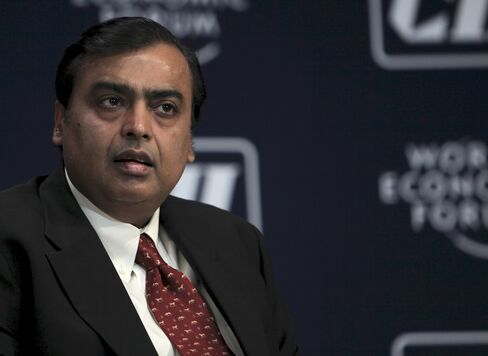 Reliance Industries Ltd., operator of the world's biggest oil-refinery complex, reported its highest quarterly profit in seven and a half years as lower crude costs boosted earnings from fuel sales.
First-quarter net income rose 12 percent to 63.2 billion rupees ($987 million), or 19.5 rupees a share, in the three months ended June 30 from 56.5 billion rupees, or 17.5 rupees, a year earlier, the Mumbai-based company said Friday in a stock exchange statement. That beat the 62.5 billion-rupee median of 16 analyst estimates compiled by Bloomberg. Sales fell 32 percent to 658.2 billion rupees as the value of products sold overseas almost halved to $5.1 billion.
Reliance, among a handful of global refiners with the ability to process low-grade crude into high-value products and switch between fuels depending on market prices, is gaining from crude's 42 percent slump in the quarter from a year ago.
"The company has top class assets," D.K. Aggarwal, chairman of Mumbai-based brokerage SMC Investments & Advisors Ltd., said before the earnings. "With crude oil expected to remain on the lower side, Reliance should continue to show good numbers."
The company, controlled by billionaire Mukesh Ambani, is investing $12 billion to boost its petrochemicals capacity and build facilities to import ethane from the U.S., securing low-cost feedstock for polymer resins such as those used to make clothing and containers. A further $5 billion will be spent to complete the refining and petrochemical cracker and downstream projects, Joint Chief Financial Officer V. Srikanth said in Mumbai after the results were announced.
Reliance shares fell 1.9 percent to 1,025.05 rupees at the close in Mumbai. The benchmark S&P BSE Sensex dropped 0.9 percent. The earnings were announced after trading ended.
Refining Margin
During the quarter, $10.40 was earned for every barrel of crude turned into fuels, compared with $8.70 a year earlier and $10.10 in the three months ended March 31, Reliance said in the statement. The refining margin was the highest in six years because of "strong gasoline cracks led by robust demand growth, lower energy cost and favorable crude differentials," the company said.
Raw material costs fell 40 percent to 489.8 billion rupees, reflecting lower crude prices in the period.
"Our financial performance reflects the benefits of integrated hydrocarbon chain activities in a benign oil price environment," Ambani said in the statement. "The sharp increase in demand for transportation fuels helped us realize strong refining margins."
Downstream Expansions
The start of downstream expansions in the next 18 months will lift Reliance's earnings before interest, taxes, depreciation and amortization by 75 percent over the next three years, Vikash Kumar Jain, an analyst at CLSA Asia-Pacific Markets, said in a June 30 note to clients. The company's operating cash flow in the period will increase to more than $7 billion, easily covering any startup cash losses from its foray into telecommunications, he said.
Reliance, which runs two refineries with a combined capacity of 1.24 million barrels a day in the western state of Gujarat, processed 16.6 million tons of crude with an average utilization rate of 107 percent in the quarter.
Global refinery capacity additions will surpass demand over the next two years, which may impact the current unusually high refining margins, the International Energy Agency said in its monthly oil market report in July.
Reliance's earnings were hampered as profits for making diesel fuel weakened. Diesel crack spreads in Singapore, or benchmark profit gauge in Asia, averaged $13.80 a barrel during the quarter, compared with $16.20 in the previous three months and $16 a year earlier, the company said. Diesel cracks narrowed as an increase in supplies countered growth in demand.
U.S. Shale
Upstream shale ventures in the U.S. were affected by declining prices, Reliance said in the statement. Henry Hub gas prices averaged $2.72 per million British thermal unit, 44 percent less than a year earlier. While the market outlook is curtailing near-term growth, the business holds long-term promise, Reliance said.
The company also produces natural gas from the KG-D6 block, off India's east coast with partners BP Plc and Canada's Niko Resources Ltd. Output from the field has been falling since the middle of 2010 as Reliance says the field is more difficult to produce from than initially expected.
Natural gas output from KG-D6 declined 13 percent to 37 billion cubic feet in the quarter from a year earlier, Reliance said. Oil production from the block declined 16 percent to 440,000 barrels and condensate output dropped 6 percent to 80,000 barrels.
Reliance, which also runs stores selling fruits and clothes, has spent 1 trillion rupees to build a telecommunications network that will start by December this year, Ambani told shareholders in June. First-quarter revenue from the retail business grew 18 percent on year to 47 billion rupees. As on June 30, Reliance Retail operated 2,747 stores across 210 cities in India.
Before it's here, it's on the Bloomberg Terminal.
LEARN MORE