Brazil Building Execs Accused in Carwash Corruption Scandal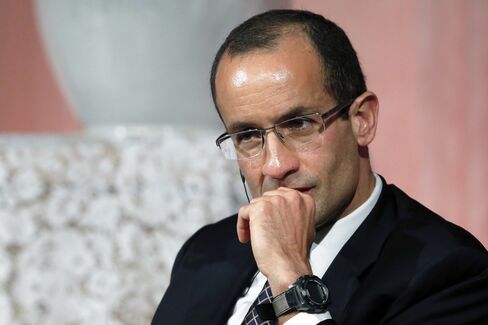 Federal prosecutors formally accused executives from Brazil's top builders of participating in the country's biggest corruption scandal in history.
Prosecutors on Friday accused Marcelo Odebrecht, chief executive officer of Odebrecht SA, and Otavio Marques de Azevedo, president of Andrade Gutierrez SA, with corruption, money laundering and forming a criminal organization. A judge will decide whether to file charges.
Odebrecht denies any illegal actions, company lawyer Marcos Verissimo told reporters in Sao Paulo following the prosecutor's news conference. Andrade's lawyers are studying the information presented Friday, which doesn't appear to include any novel content, the company said in an e-mailed statement. It has said in the past its executives are innocent.
The probe is part of a more than yearlong investigation, which is known as Carwash because police discovered early in the probe that a service station had been used to launder cash. Prosecutors and police allege contractors formed a cartel to win bids at state-run Petrobras, giving kickbacks to executives at the oil producer and to politicians.
Friday's accusations made against some of Brazil's most powerful businessmen underscores the size and reach of the scandal, which has slowed construction and eroded investor confidence in Latin America's largest economy. The Brazilian real fell 5 percent in the past week to a 12-year low, the worst performer among major currencies worldwide.
'No Sense'
Evidence presented for the first time Friday includes charges that Petrobras bought naphtha, a petroleum product, at above-market prices, selling it to Braskem SA, a venture of Odebrecht's group, for a discount. The state-run company allegedly lost 6 billion reais ($1.8 billion) in the transactions, according to prosecutors.
Sao Paulo-based Braskem said in a statement on Friday that negotiations with Petrobras for the naphtha contract were similar to deals signed by its competitors at the time, and that it made "no sense" to talk about losses of 6 billion reais. Petrobras's press office has said in the past that the company was a victim of the corruption. It declined to comment on the latest accusations.
Investigators also alleged Odebrecht paid 1 billion reais in bribes from money held in Swiss accounts.
Prosecutors are seeking restitution of 6.7 billion reais from Odebrecht and 486 million reais from Andrade Gutierrez, prosecutor Deltan Dallagnol said in Curitiba, Southern Brazil, on Friday.
Preventive Detention
Azevedo and Odebrecht have been in jail since mid-June on preventive detention and they were transfered to a prison complex on Saturday from police headquarters.
In an e-mailed statement, Odebrecht said the accusation will allow its lawyers to build a defense by accessing the allegations presented against the managers. The decision to hold its CEO and four former executives in prison is "indefensible," Odebrecht said in the statement.
Odebrecht, an industrial conglomerate with 108 billion reais in revenue last year, owns Latin America's biggest construction company. It is controlled by the billionaire Odebrecht family, headed by CEO Marcelo, who is the grandson of late founder Norberto Odebrecht.
The billionaire Andrade and Gutierrez families share control of the Andrade Gutierrez conglomerate. It has interests in construction, energy, telecommunications, logistics, real estate and infrastructure.
Before it's here, it's on the Bloomberg Terminal.
LEARN MORE