Nigeria Holds Key Rate at Record 13% as Inflation Climbs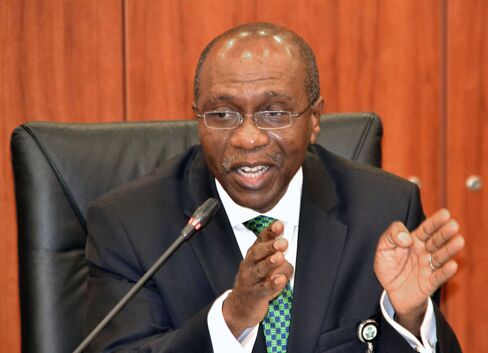 Nigeria's central bank kept its key interest rate unchanged at a record high in its first policy meeting since President Muhammadu Buhari took office and after inflation broke the regulator's target band last month.
Eight out of 12 members of the Monetary Policy Committee voted to hold the rate at 13 percent, Governor Godwin Emefiele told reporters on Friday in the capital, Abuja. That was in line with the forecasts of 21 of 23 economists surveyed by Bloomberg.
The bank is "concerned by the gradual but steady increase in headline inflation," Emefiele said, while arguing that most inflationary drivers such as fuel shortages weren't permanent and outside of monetary policy control.
Buhari, who was sworn in on May 29, has inherited an economy struggling to deal with an almost 50 percent drop in the price of crude that's reduced government revenue, eaten into foreign-currency reserves and forced policy makers to devalue the naira twice in the past year. Nigeria's inflation rate rose to 9.2 percent in June, quickening for the seventh straight month to take the rate beyond the bank's 6 percent to 9 percent target band.
Awaiting Policy
"Monetary policy alone remains handicapped and would require urgent complementary fiscal policies to define the path of growth," Emefiele said.
Buhari has yet to appoint a finance minister or clearly delineate the details of his economic plans as he's waiting until September to appoint a cabinet.
"The central bank is still looking for policy direction before doing anything bold," Razia Khan, head of Africa economic research at Standard Chartered Plc, said by phone from London. "Everything is on hold."
The naira has lost 7.6 percent of its value against the dollar on the interbank market this year and was trading at 198.55 per dollar at 3:46 p.m. in Lagos, the commercial capital.
The central bank has restricted currency trading since December in a bid to stem the fall of the naira. Last month, the regulator banned importers of about 40 items including toothpicks, private jets and wheelbarrows from using official foreign-exchange markets.
While the measures have stabilized the naira at an average of 198.96 per dollar since the start of March on the interbank market, they have left it overvalued and caused investors including BlackRock Inc. and Aberdeen Asset Management Plc to shun local bonds and stocks until there's a devaluation.
Before it's here, it's on the Bloomberg Terminal.
LEARN MORE