Hamptons Scene: The Peace and Bedlam of the Artist-Thrown Party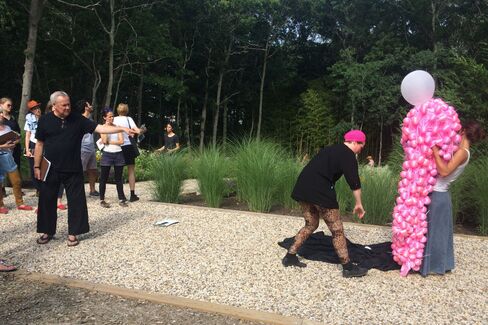 Hosting more than a thousand guests in the Hamptons can be a headache, a joy, a task to delegate, or a meticulously planned artistic endeavor. The Watermill Center benefit on Saturday falls into the latter category.
For the event, avant-garde theater artist Robert Wilson turns several acres in Water Mill, comprising his East End home and year-round artistic compound, into a stage.
Knowing his work "Einstein on the Beach," the opera he made with Philip Glass, his mostly silent "Deafman Glance," or even having attended the event before doesn't prepare one for the experience.
On a walk-through the other day, Wilson directed the most minute detail, like whether two potted ferns or two potted trees should block a dirt path to foot traffic. He also picked out which clips of Estonian composer Arvo Part will play in a new flower garden. He'd spent the morning determining the placement of more than a thousand plants there, and now various artists were working with shovels.
"We're the U.S. Army, the Watermillians," Wilson declared. In the next hour or so, he observed, mused and directed about a dozen artists.
"45 minutes? No, 25," he said to a dancer who remained stoic. With another, he worried over assembling the piece quickly, as the location of the installation would need to stay clear for the catering trucks until a few hours before guests arrived.
Mysterious Spectacles
The benefit, whose co-chairmen this year include Richard Perry, Paul Hilal, Phil Hilal, and Sanford Ehrenkranz, supports artist residencies and education programs at the Watermill Center. During cocktail hour, guests roam the property to encounter performances and sculpture made for the event. Each year the party has a theme -- this year it's "Circus of Stillness" -- but don't take that as a way of making sense of it all.
"If you figure it out, let me know," Wilson said, a smile breaking across his often inscrutable face.
Wilson is not the only artist with a compound and a benefit in the Hamptons. For years, his party has followed the one textile artist Jack Lenor Larsen hosts at his home and gardens, LongHouse Reserve in East Hampton.
That event is much more chill. Meaning, last Saturday, there were plenty of parts of the garden where a guest could find himself all alone with a few rabbits hopping around. There was some spectacle that felt extraneous: one musician played a funky instrument by making motions around her bust; another group nestled in a set of sculptures, got up, and went into the pool for some synchronized swimming.
The best part was encountering Larsen himself sitting on a stool in front of his home, greeting guests. He wore a splendid green and blue fabric he said was inspired by the costumes of the Korean gentry. Wilson almost always wears a black T-shirt.
Before it's here, it's on the Bloomberg Terminal.
LEARN MORE